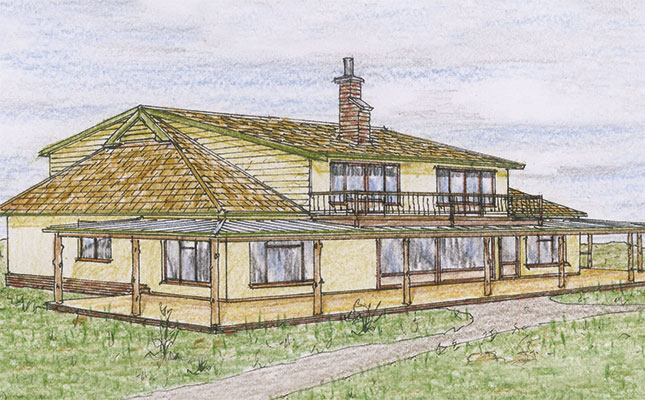 Dear Jonno
We have been following your articles in Farmer's Weekly and have been buying the magazine for the past two years almost solely to see your new ideas. The time is fast approaching for us to start building a house on our farm in Namibia. We would like it to be double-storey (to enjoy the view), with a wrap-around veranda, three bedrooms, at least one guest room, and plenty of natural light.
Other features we would like are a fireplace, an office, a built-in cooler room, a pantry, and a walk-in cupboard in the main bedroom. Everything will be built in stages due to budgetary constraints. We will be making our own bricks and would like a tiled roof. We also want the house to be solar-powered.
Kind regards
Heiko
First floor plan: 68m
²
 + balcony
Dear Heiko
This design for a three- bedroom house is one of many possible options. As you want to build in stages, I've configured the rooms so that the ground floor can be occupied while the upstairs area is being developed. The guest bedroom and office can be used as temporary bedrooms.The two side wings of the hip-roofs are at 45° to allow for the lower pitching of the central roof. The veranda roof has a much lower pitch and can have translucent sheeting to let in light. Solar panels will be placed according to the house's orientation.
The first bedroom has an extra fireplace if required. Hardwood tree stumps can be used as veranda posts. The large picture windows take full advantage of the views and let in more light. The upstairs bedrooms have timber-framed inner walling and cladding, and timber floors.
Best regards
Jonno
Floor plan: 122m² + balcony