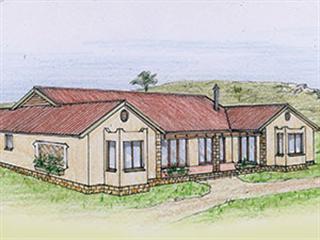 A south-facing site was chosen for the first phase of the 100-unit development. I was therefore asked to incorporate all the contrivances that would allow for optimal sun. This includes a wider roof overhang for the south-facing pergola porch outside the folding door area, with a grapevine or other suitable plant trained over it.
The private backyard will also serve to let 'passive sunlight' into the house, allowing it to gradually warm up during the day, but a retractable awning will be added in case it gets too hot. The layout of the house, with bedrooms on either side of the central living area, lends itself to several accommodation possibilities. This includes allowing the owner to keep the main bedroom and en-suite private bathroom, while letting the remaining bedrooms out to other retirees.
The styling of the unit is that of a 'country home' with earthy colour variations. The developer is keen for prospective buyers to have an input on aspects of the design as well as choice of finishes. "I don't want the complex to look like peas out of the same pod," he explained . The enclosed yard will be ideal for a private garden or to keep a pet dog. The rest of the property will remain as open land for wildlife to roam in.

Floor plan: 148m2 + porches and double garage
Jonno