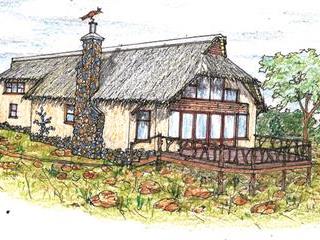 I received a call from Andrew, an acquaintance from some 15 years ago, to upgrade existing accommodation and catering facilities at a private game park in northern KwaZulu-Natal. What was previously a four-star lodge has become downgraded after a change of ownership five years ago. Management has now been tasked with returning the lodge, situated on 12 000ha, to four-star status.
Sleeper deck18m2

I have been asked to upgrade some of the present lodge premises and design four additional self-catering, two-bedroom units, which would increase the number of beds to 25 or more. Each of these new units will have a sleeper deck in the roof area over the bathroom/kitchenette. This deck is a 'bonus area', as it requires only a wooden floor, a window or two, and a toilet and basin.
Most of the superstructure materials – rocks and sand – for the alterations are readily available from the Mkuze River. The walls of the existing buildings were built from river boulders and the new buildings will follow suit. The unit shown here is a super-luxury example; the other three will be about 20% smaller in size.
Thank you to Andrew for the invitation and an interesting day spent on site.
Jonno
Floor plan 65m2 and deck