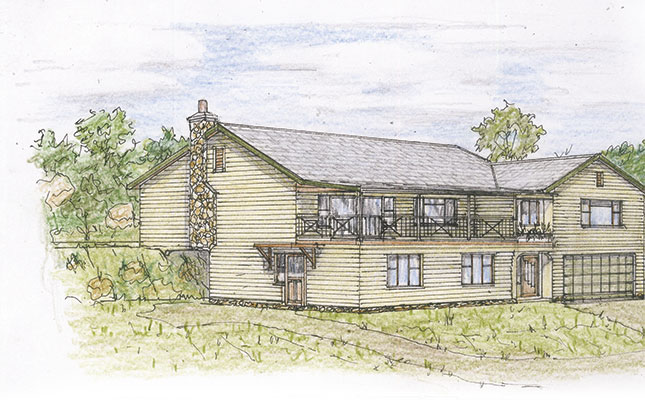 Dear Jonno
We find your regular advice in Farmer's Weekly on the design and construction of houses exciting and informative. My wife and I have a 711m2 plot in Wilderness that lies at the foot of a koppie. It is set on an incline and has two terraces. From the upper level one can see the ocean, and we would like a house design that optimises the view.
Ideally, we would like two to three bedrooms with two bathrooms and open-plan living areas, that open out onto a balcony or veranda. We would also prefer a timber or steel-framed house with a Vermont Plank finish, as we are not allowed to build a log home. The house should also blend in with the immediate environment.
As Wilderness lies at the heart of the Garden Route, we are considering providing holiday accommodation to earn extra income. There are no limitations on the construction of a second dwelling on the property, except that it may not be bigger than 60m2. We are, however, not sure whether to build a second dwelling or one double-storey house and let the extra space to holidaymakers. I have attached photographs of the plot to provide you with some context. Your advice and suggestions would be greatly appreciated.
Regards
Chris
Dear Chris
Here is a layout and styling proposal for the house you outlined in your letter. While the photos showed some of the site aspects, I still need to know the width and height of the terraces on which the house will be positioned. In the meantime, I have tried to imagine how the double-storey unit would fit onto the terraces. The 60m² cottage positioned on the lower level adjacent to the double garage, with an entrance to the upper level, is also shown here. This would ensure privacy for both yourselves and visitors.
In time, you may want to extend the main house. There are two options – either add onto the lounge, or increase the pitch of the roof (for example, up to 60°) and build attic rooms in the roof space. This home can be built using timber framing (stud-walling) with shiplap fibre cement cladding planks on the outside.  I am familiar with this building technology and will detail the technique in your final working drawings. Let me have any further comments and ideas.
Regards
Jonno