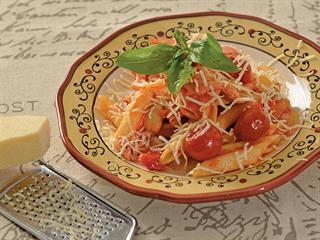 To make this deeply satisfying pasta meal for four, you will need:
500g penne pasta

2 cans chopped or whole tomatoes

1½ cans white beans

3 cloves garlic

70g Parmesan cheese

1 large onion

200g back bacon

20 leaves fresh basil

Extra virgin olive oil on demand

Freshly ground black pepper

Salt


We begin with the penne. Bring a large saucepan of lightly salted water to a rolling boil before adding the pasta and a tablespoon of olive oil. Let the pasta boil for 11 minutes, or as long as specified on the packet. Avoid over-boiling as this may produce a sloppy and shapeless outcome. When done to your liking, drain and reserve.
Meanwhile, open and drain the beans, discarding the liquid. Open the cans of tomato, which will be used entirely, including the juice. Peel and thinly slice the onion and finely chop the garlic.
Select a large frying pan or saucepan with a heavy base and fry the garlic and onion in a few tablespoons of olive oil over a medium heat. Monitor the heat during this process, whilst continuously mixing to avoid burning. Cook until the onion slices are soft and translucent.
Cut the bacon into strips and add to the onion and garlic mixture. Continue to stir occasionally for a couple of minutes.
Add the tomatoes, juice and all. If the tomatoes are whole, mash them lightly. Keeping the hob at a medium heat, cook until the mixture begins to bubble. Add the cooked pasta, lower the heat to a simmer and stir well. Allow the sauce to return to its former bubbling state.
In the meantime, get the cheese ready. This meal requests – no, demands – the strong flavours of hard Italian cheeses. Some delis and supermarkets sell grated Parmesan, which saves time at a small cost of flavour. It is so much better to grate the cheese finely yourself, using either Parmesan or pecorino, or, in total over-the-top cheesy heaven, both. Stir the grated cheese or cheeses into the bubbling mixture.
Lower the temperature and let it cook for a few more minutes. Add the pepper and, if desired, more salt. Remember to taste very carefully before adding more salt, as the bacon and the cheese are salty to begin with.
Serve in heated soup plates or bowls, garnishing each serving with coarsely chopped or hand-torn basil leaves. Provide additional grated Parmesan for diners who desire an overload of flavour.