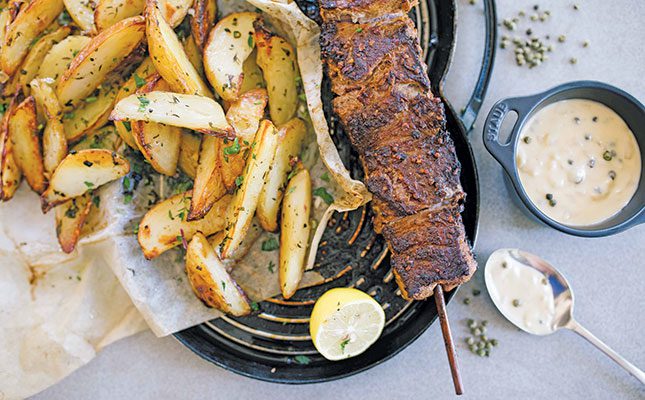 SERVES 4
1kg beef espetada
4 large potatoes, cut into wedges
125ml canola oil
15ml (1 Tbsp) fresh chives, chopped
15ml (1 Tbsp) parsley, chopped
15ml (1 Tbsp) thyme, chopped
15ml (1 Tbsp) lemon juice
15ml (1 Tbsp) olive oil
1 onion, diced
5ml crushed garlic
2,5ml salt
For the sauce
45ml green peppercorns in brine, drained
30ml butter
30ml cake flour
250ml (1 cup) milk
125ml cream
125ml white Cheddar cheese, grated
Start with the potato wedges. Place the potatoes in a medium pot and cover with boiling water. Boil for about 12 minutes. Drain and set aside to cool for 15 minutes. Preheat the oven to 200°C.
In a mixing bowl, combine the canola oil, chives, thyme and lemon juice. Slice the parboiled potatoes into wedges and toss together with the herb mix.
Transfer to a roasting pan and spread out in a single layer. Roast the potatoes for around 40 minutes until crispy and golden brown. Remove from the oven and season with salt and pepper to taste.
For the green peppercorn sauce: Heat the olive oil in a small saucepan over medium heat. Add the chopped onions, crushed garlic and salt. Sauté for around three minutes until the onions are tender and slightly translucent.
Add the drained green peppercorns and butter to the onion mixture, and continue to cook for another three minutes.
Reduce the heat and stir in the flour, and cook for one minute. Remove from the heat and gradually stir in half of the milk. Return to the heat and bring to a simmer while stirring. Add the rest of the milk and cream. Continuously stir and cook over medium heat until the mixture starts to thicken (around eight minutes). Once the sauce has thickened, remove from the heat and mix the grated Cheddar cheese through to melt.
For the beef espetada: Place the grid 15cm above the coals. Sear the beef espetada over hot coals until done (seven to nine minutes for rare and 10 to 12 minutes for medium).
Remove from the braai and season with salt and pepper to taste.
Rest the meat for five minutes before serving.