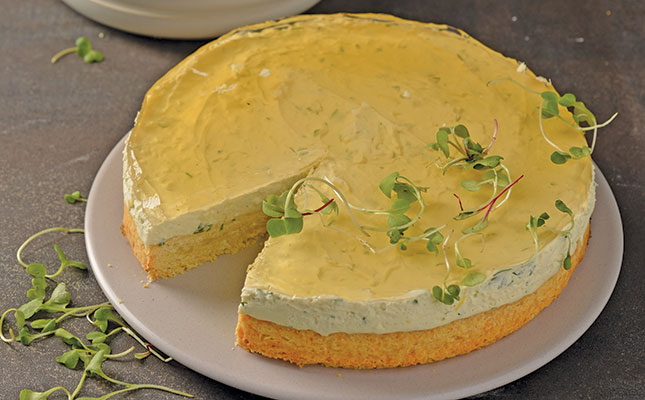 To serve eight to 10 people, you will need:
Cheese shortcrust pastry:
200g butter
200g cake flour
200g mature cheddar cheese, finely grated
Filling:
3 gelatin leaves
450g cream cheese, at room temperature
100g blue cheese
1 handful parsley, chopped
Zest of 1 lemon
1 tbsp fresh lemon juice
Hanepoot wine jelly
3 gelatin leaves
200ml Hanepoot wine
200ml water
1 Preheat the oven to 180˚C. Grease and line a 24cm spring-form cake tin. Set it aside until needed.
2 For the pastry, cream the butter until light and fluffy, add the flour slowly until a paste forms, then add in the cheese. Mix until all the ingredients are well combined.
3 Transfer the dough to the prepared cake tin. Press down on the dough, using your finger
to form an even base.
4 Bake in a preheated oven for about 30 minutes, or until the pastry is golden. Allow the crust to cool.
5 Bloom the gelatin leaves in water, to cover, and soak for about five minutes. Squeeze out the water and microwave the soaked leaves on high for five seconds or until melted, but not boiling.
6 Stir all other ingredients for the filling together and mix well with the gelatin until the mixture is well combined and smooth. Transfer the mixture to the cooled crust and smooth
the top with a spatula. Place the cake in the fridge.
7 While the cheesecake is setting in the fridge, you can prepare the Hanepoot jelly. Bloom the gelatin leaves as described above, then stir in the wine and water and mix together. Pour the mixture over the chilled cheesecake filling and refrigerate for about one hour until the jelly has set.
8 Garnish with micro leaves, and serve.
Nomvuselelo Mncube is the cooking assistant for Food & Home Entertaining.