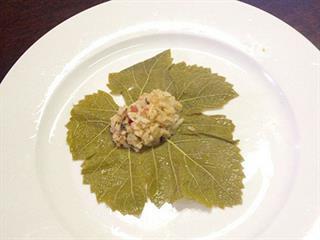 Ingredients
30-40 vine leaves (Pinot noir leaves recommended)
1 large onion
2 cloves of garlic
salt and pepper
2 cups of rice, cooked
half a tin of tomatoes (keep the other half separate)
4 tablespoons of chopped parsley
half a cup of chicken stock
mixed herbs to taste
½cup chopped cashew nuts
Method
Rice mixture
Chop the onion and garlic cloves until fine, and fry in a little oil until soft. Mix the two cups of rice, tomatoes, parsley, chicken stock and mixed herbs, salt & pepper in a pot with the onion and simmer until all the juices have evaporated.
Add the chopped cashew nuts to the rice mixture.
Preparation of the vine leaves
Gather 30 to 40 leaves, taking care always to pick only one leaf per shoot (lest you anger the winemaker, of course) and always use a leaf variety such as Pinot noir that is full and rounded with no deep lobes.
Wash the leaves in a bath of salt water.
Cut the stem as close as possible to the leaf.
Fill a big pot with boiling water, put half of the leaves in the pot at a time and boil for about 2 minutes. The leaves will turn slightly darker green and are ready when they start looking limp.
Drain with a colander.
Put one leaf upside down on a flat plate and scoop a tablespoon of the rice mixture on top.
Fold from the bottom first, then left side and right side and then roll in a dolmades shape.
Pack the dolmades tightly next to each other in an oven proof dish, pour over the other half of the tin of tomatoes and another half a cup of chicken stock. Pour olive oil over each row and cover.
Bake at 180°C for about 30 minutes. Let the dolmades cool and place in the fridge afterwards.
Serve chilled.