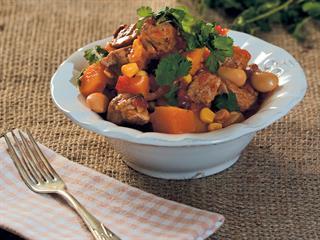 To make cowboy pork and beans for four to six diners, you will need:
500g pork loin
2 cans of haricot beans
2 onions
4 cloves garlic (or 5 or 6)
1 teaspoon ground cumin
1 litre chicken stock
1 butternut
2 cans chopped tomatoes
3 cups frozen mealies
2 or 3 serious red chillies
1 cup fresh coriander leaves
Salt and freshly ground black pepper on demand
30ml sunflower or canola oil
Make a litre of fresh chicken stock or thaw a litre of your home- made stock stored in the freezer. Or simply make a litre of chicken stock from the industrial cube or concentrate of your choice.
Next, try not to think about the authenticity of the haricot beans which, in all honesty, are not a major feature of Western or Tex-Mex cooking. But they taste good and add a thickening agency to the final outcome.
And so it begins.
Cut the pork into 25mm cubes. Peel and thinly slice the onions. Peel and deseed the butternut, then cut it into 15mm cubes. Crush, peel and finely chop the garlic. Make some decisions about the chillies right now. If this is your first attempt at this recipe, limit the chillies to two and carefully remove the pips.
This will allow the chillies to provide an accent to the flavours and not a blast of pyrotechnics in the mouth. For some of us capsicum freaks, the blast of pyrotechnics in the mouth is just what we want, so check with your guests first. They will be so glad you did.
In a large, heavy-based saucepan, heat up the canola or sunflower oil. Then add half the cubed pork, with the teaspoon of ground cumin plus a little salt and freshly ground black pepper. Keep this moving, rather like a stir-fry, until the meat is browned on all sides.
Remove and repeat with the second batch, which will need no additional seasoning. Recombine the batches of browned pork for two minutes, then remove and reserve under cover.
Sweat the onions and garlic in the remaining oil until the onions are soft and translucent. Return the browned pork plus the raw butternut to the saucepan, then pour in the litre of chicken stock.
Let this come to the boil, and cut the heat to a low simmer for half-an-hour with the lid on. Pour in the canned tomatoes, the beans plus their canning juice, the chopped chillies and the frozen mealies.
Let this lightly bubble away over low to medium unlidded heat for another half-an-hour or so. When just the way you like it – thick and aromatic – add the coriander leaves, adjust the salt and pepper, and serve, maybe with mashed potato, maybe not.
To drink, beer. For the dancing, Hank Williams. No celebratory gunfire, as this will startle the horses.
David Basckin is a freelance journalist and videographer.