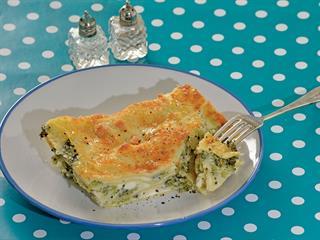 To make feta and broccoli lasagne for six diners, you will need:
500g lasagne sheets
800g broccoli
400g feta cheese
60g butter
Zest of half a lemon
75g Parmesan cheese

For the white sauce:
35g white flour
400ml full cream milk
60g butter
Salt and pepper to taste
Grated nutmeg (optional)
The only big deal here is the white sauce. This is a basic of many recipes, so it's well worth your while to add it to your kitchen skill set.
Select a small saucepan and over a gentle heat melt the butter. Do not let it turn brown as this will negatively affect taste and appearance. With the kitchen tool of your choice (a ball whisk is mine), mix the flour with the butter. Keeping up your high-revving whisking action, add milk a little at a time until you have a smooth, lump-free mixture.
Season this lightly with salt and pepper plus a generous pinch of grated nutmeg. Keeping the temperature low and the whisking revs high, cook the white sauce for five or six minutes more. Then, keep it warm in a double boiler or bain marie until later in the proceedings.
Next, bring a large pot of water to a rolling boil. Coarsely chop the broccoli, including both stems and florets.
Blanch these by pouring the chopped broccoli into the boiling water and then swiftly straining after 60 seconds.
Reserve.
Boil fresh water, salt it lightly and cook the lasagne pasta sheets for the time indicated on the package. Dunk them in cold water when done and then lay them on a clean kitchen towel. Crumble the feta by hand into a bowl. Stir in the lemon zest.
Assembly time. This requires a lot of action, so have everything in place before you start. Grease a standard (200mm x 250mm) ovenproof baking dish with butter. Place a layer of cooked lasagne pasta in the dish. Pour a quarter of the white sauce over this, then sprinkle some crumbled feta on top.
Add a layer of blanched broccoli and continue the process of layering until the ingredients have all been used, with the final layer consisting of white sauce with the grated Parmesan and dotted lightly with the remainder of the butter.
Cover it with aluminium foil and stick it in the oven at 190°C for 20 minutes. Remove the aluminium foil and give it another 20 minutes after which it should be pleasantly browned and bubbling with excitement. Take it out of the oven, give it 15 minutes to calm down, and serve.