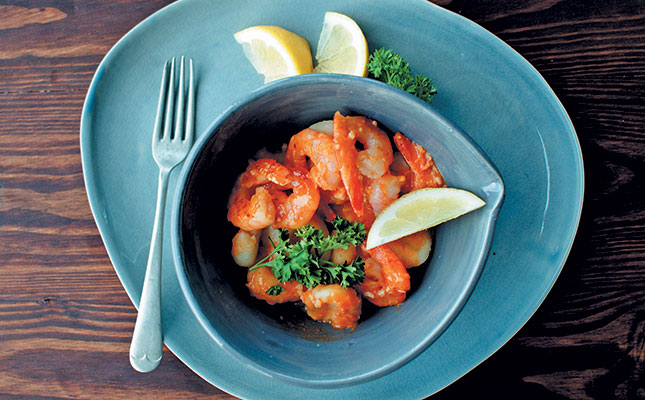 To make gnocchi in a prawn and tomato sauce for four diners, you will need:
For the gnocchi
1 kg potatoes
2 cups plain flour
25g/quarter cup of grated Parmesan cheese
1 extra large egg
For the prawn and tomato sauce
20 large prawns
25mm fresh root ginger
2 cloves garlic
1 lemon
4 tablespoons tomato concentrate
4 tablespoons cream
350ml dry white wine
Salt and white pepper to taste
Begin by washing the potatoes, then boiling them in lightly salted water at just above simmer for 40 minutes. Remove with a slotted spoon.
Then, while the potatoes are still hot, slide off and discard the peels. Mash the potatoes using the historic device of your choice. Add a cup of flour and the Parmesan, and mix well.
Break the egg into the mixture, add a half cup of additional flour, and, using only your hands, knead the mixture until free of lumps. This genial, pseudo-artisanal process should take about four minutes.
Sprinkle your hands and work surfaces with a flour. Break the ball of dough into eight equal sections, then roll them into solid bars 25mm in diameter. Cut into 20mm-long pieces, scoring light grooves into them (to catch the sauce) with a fork.
Boil lightly salted water in a large saucepan. Add 25% of the raw gnocchi to the water for a minute or less, at which point they should rise to the surface. Remove and let them drain while you deal with the remainder. Keep them warm under cover.
Now the sauce. Add a tablespoon of sunflower or canola oil to a saucepan. Bring this up to medium heat and sweat the grated ginger and chopped garlic for 60 seconds. Stir in the wine, tomato concentrate, and the freshly squeezed lemon juice.
Let this bubble away until the sauce begins to thicken.
Taste. If acidic, add two teaspoons of brown sugar. Pour in the cream, a little at a time, while stirring. Reserve undercover.
In a second frying pan, add a tablespoon of sunflower or canola oil, bring up to medium heat and stir-fry the cleaned prawns for 30 seconds a side, turning them once. Remove with a spoon and drop them into the cooked sauce.
Stir. Pour this over the warm gnocchi and garnish with parsley.
David Basckin is a freelance journalist and videographer.