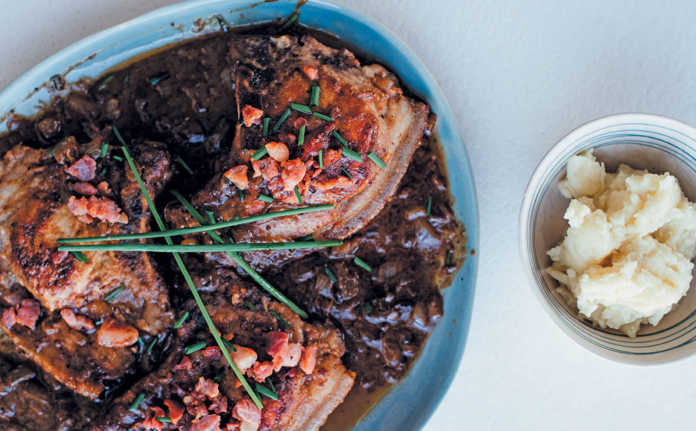 To feed two diners with this luxurious meal, you will need:
90g thick-cut unsmoked bacon or pancetta
2 pork loin chops, 350g and cut 20mm thick
20ml extra virgin olive oil
Salt and coarsely ground black pepper to taste
200g general purpose flour
3 tablespoons finely chopped onions
1½ tablespoons finely chopped chives
120ml dry white wine
120ml chicken stock
1 tablespoon tomato concentrate
2 tablespoons Dijon mustard
Heat the oven to 100°C.
Cut the unsmoked bacon or pancetta into small cubes. Heat the extra virgin olive oil in a heavy-based frying pan or cast-iron skillet on a medium heat. Add the cubed bacon or pancetta and stir from time to time for five minutes or until the meat is crisp.
Remove and set aside the cooked meat, retaining the fragrant rendered fat and olive oil. Season the pork chops on both sides with salt and a generous amount of freshly ground black pepper. Drag them through a bowl of plain flour, then knock off the excess.
Bring the original frying pan and its mix of rendered fat and olive oil to a medium heat and cook the seasoned pork chops for six minutes on each side, taking care not to overcook them.
Slide the chops onto a warmed plate, cover with foil, and stick them in the oven to stay warm. Pour the fat out of the frying pan into a small bowl. Measure out two tablespoons and return this to the frying pan.
Fiddly, I know, but worth it. Drop the heat a little, then sweat the onions until soft. Don't let them stick. Raise the heat to medium-high and pour in the white wine. Let the volume reduce by 25% (30ml).
Stir in the tomato concentrate and mix well. Add the stock and let it simmer for a few minutes. Drop the heat and stir in the Dijon mustard and half of the chopped chives. Place the chops from the oven into the frying pan with its juicy contents, turning them once.
Serve with a buttery mash of sweet or standard potatoes, or maybe even plain white rice, sprinkled with the cooked, unsmoked bacon bits or pancetta. Garnish with the remainder of the raw chopped chives.
Drink a chilled chardonnay with this celebratory meal.
David Basckin is a freelance journalist and videographer.