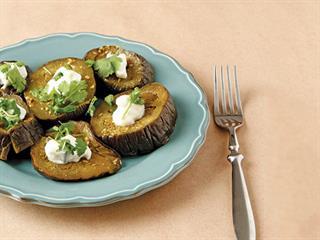 To make KZN coastal aubergine curry for four diners, you will need:
2 aubergines (also called brinjals or eggplants)

1 bunch fresh dhania

30mm fresh root ginger

4 tablespoons shredded coconut

3 cloves garlic

½ teaspoon ground turmeric

2 teaspoons Osman's masala

2 teaspoons tamarind paste

2 tablespoons sunflower or canola oil

1 tablespoon Maizena

Salt to taste
Let's begin with some theory. Tamarind comes in various forms, ranging from soft packets of paste to giant blocks of the compressed fruit. It's best to go for the soft packets (most of which come from Thailand), as these are the easiest to use; they require no preparation other than opening the packet.
The masala can also be bought ready-mixed or you can make your own. If this is the path you choose, combine a half-teaspoon each of coriander (dhania) seeds, cumin (jeera) seeds, white cardomom (elachi) seeds and a quarter-teaspoon of dried chillies. Reduce these to powder in a spice grinder, or mortar and pestle. Use either the home-made or the bought masala, not both.
Select half a handful of fresh dhania (coriander) leaves and rinse them free of sand. Crush, peel and coarsely chop the garlic. Peel and grate the fresh root ginger. Cooking this meal is a two-stage process. First, swiftly stir-fry the garlic in the oil of your choice, then add the masala, turmeric and Maizena, and stir-fry for a minute. Then add the grated ginger, tamarind paste, shredded coconut and a little salt to the previous ingredients and once more stir-fry for a minute or so. Remove from the hob and allow to cool.
Rinse the aubergines and cut off and discard each end. Cut the remainder into thick (20mm) slices. Place these in a large ovenproof dish. Cut a series of grooves into the top surface of each slice of aubergine and then with your hands (if cool enough) or an egg lifter (if not) spread the spiced mixture into the grooves and over the top of each slice.
Stick the spiced slices into a large frying pan and cook them on medium high under a lid for seven minutes, taking care to avoid burning. Aubergines are like a sponge for oil and can burn easily. Remove the lid for the final blast of heat on high, removing them when they have become very soft.
Serve solo with a garnish of fresh dhania leaves or as an addition to a meat, poultry or fish-based curry. A cool raita made from thin slices of cucumber mixed with plain youghurt decorated with a pinch or two of red paprika completes the line-up.