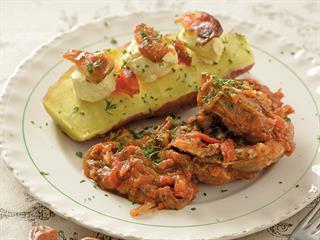 Ingredients
To make lamb curry with dates, cream cheese and whole sweet potato for four, you will need:
4 large sweet potatoes
250g cream cheese (not cottage cheese)
16 large Namibian dates
1kg of lamb curry pieces, on or off the bone
4 onions
4 tomatoes
Sunflower or canola oil
Large bunch of fresh dhania (coriander)
3 or 4 sprigs from a curry leaf tree
6-8 cloves of garlic
100mm of whole ginger root
5 red and green pele-pele chillies

For the masala
1/2 tablespoon whole elachi (white cardomoms)
1 tablespoon whole jeera (cumin seeds)
Half a tablespoon cinnamon bark
1 tablespoon whole mustard seeds
1 tablespoon whole coriander seeds
Begin with the masala. Making it fresh avoids the possible unpleasantness of stale pre-ground spices while allowing you to experiment with the outcome. Toast the whole spices in a clean, dry frying pan over medium heat, shaking the pan as the spices begin to brown. This takes only minutes. Remove from the hob and allow to cool before grinding or pounding to fine powder. Cover and reserve.
Blanch the tomatoes in boiling water and remove the skins. Peel and thinly slice the onions. Crush, peel and mince the garlic. Peel and finely grate the ginger. Remove the pips from the chopped chillies to diminish the chilli effect, taking care not to touch your face or other sensitive parts of the body until all traces of chilli juice have been washed off your hands. If allergic to chilli, wear disposable gloves for this process.
Next, the meat. You can use mutton or lamb, on- or off-the-bone. Mutton needs a bit more time but can provide a denser flavour. On-the-bone allows for some marrow to thicken the sauce, while off-the-bone prevents any nasty dental incidents. Cut the meat into generous chunks.
In a large saucepan or frying pan, heat up two tablespoons of sunflower or canola oil, then stir-fry the garlic, ginger and chopped chillies for 90 seconds. Add the sliced onions and sweat these for 10 to 15 minutes until soft and transparent. Pour in the masala and curry leaves, as well as the diced tomatoes and any juice. Stir well, add the meat plus a little water or chicken stock and simmer for 30 to 40 minutes until the meat is tender but not overcooked.
Salt to taste.
Scrub the sweet potatoes to remove all traces of Mother Earth, then boil them tender, with or without the skins. To serve this meal, split a sweet potato lengthwise per person, spread with cream cheese, add a layer of coarsely chopped depipped dates, and then a serving of the curry. Garnish with dhania leaves (washed under the tap) and crack open a few icy lagers.