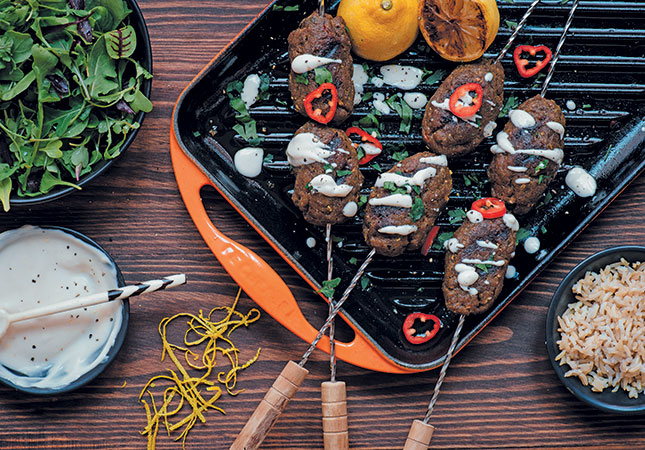 To make lamb kofta with yoghurt tahini sauce for four highly appreciative diners, you will need:
For the kofta
600g minced lamb
2 extra large eggs
1½ cups of dry bread crumbs
3 tablespoons parsley
½ teaspoon cinnamon
1 teaspoon cumin
1 big red chilli
2 teaspoons tumeric
1 teaspoon allspice
2 onions
For the yoghurt and tahini sauce
½ cup plain white yoghurt
2 teaspoons lemon juice
Zest of half a lemon
2 tablespoons tahini
2 cloves garlic
But first, some polite chat about the ingredients. Tahini is one of the most desirable flavours in the history of food. Made mainly from sesame seeds, it comes either fully formed from your local supermarket or, if you dream of forearms like Popeye's, home-made in a granite mortar with a hand-powered pestle. YouTube will tell you how.
Next, minced lamb. This is a well-kept secret in South Africa, which is a pity; it makes the finest burgers you will ever taste.
Finally, the zest. This is the outermost layer of a lemon peel, which you scrape off with a nifty zesting tool.
Let us begin. Peel and grate the onions. If you have whole versions of the spices, grind them fine in the appropriate appliance. Freshly ground spices are better than old bottles of brown dust on your spice rack.
Choose a big red chilli, rip off the stem and cut it in half lengthwise. Shuck out and discard the seeds with a teaspoon. Shell the raw eggs.
Set up your blender. Pour in all the ingredients on the kofta list. Rev up the machine and keep it blending until the contents are smooth and thick.
Select some skewers. If they are bamboo, soak them in water for 10 minutes. By hand, create dense golf balls of the kofta mix and stick them on the skewers. Set them aside under cover while you create the sauce.
Crush, peel and finely mince the garlic cloves. Extract the juice from the lemon. Combine the sauce ingredients in a bowl and mix.
Cooking time. This ancient meal was originally designed for a three-stone hearth and real fire. So use a braai or place the kofta under a hot grill until ready. Serve drenched in the tahini yoghurt sauce, with brown rice and a green salad.
David Basckin is a freelance journalist and videographer.