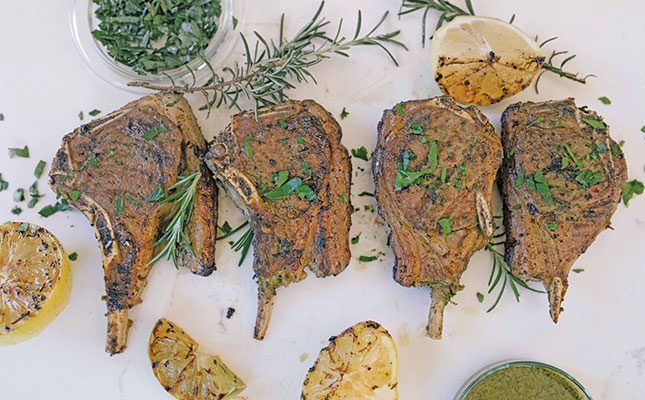 SERVES 6
6 lamb loin chops
62,5ml flatleaf parsley, chopped
62,5ml mint, chopped
62,5ml fresh coriander leaves, chopped
7,5ml garlic, crushed
2,5ml crushed chili flakes
45ml lemon juice
15ml water
45ml soya sauce
62,5ml olive oil
15ml brown sugar
2,5ml salt
6 fresh sprigs of rosemary
5ml lemon zest
Combine all the marinade ingredients except the lemon zest and rosemary sprigs in a jug. Use a stick blender and mix until all the herbs are finely chopped. (If you don't have a food processor, chop the herbs as fine as possible by hand and mix with rest of the marinade ingredients in a bowl.)
Place the lamb chops, rosemary sprigs and lemon zest in a resealable bag and pour the marinade on top. Gently distribute the marinade to ensure all the chops are covered.
Try to remove as much air as possible from the bag prior to sealing. Place the bag in a container and marinate overnight. Remove the chops from the bag and shake the excess marinade off. Braai the marinated chops over hot coals for 15 to 20 minutes, turning often. Alternatively, one can sear the marinated chops in a heavy-bottomed pan for about three minutes on all sides. Then transfer to a 200°C preheated oven and roast for eight to 10 minutes.