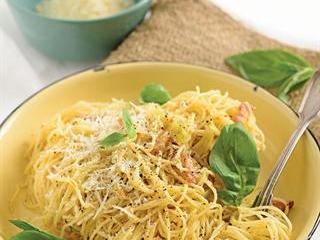 To make pasta with eggs, bacon and leeks for four, you will need:
500g pasta, in this case spaghetti or spaghettini

250g back or streaky bacon

4 large eggs

4 large leeks

Freshly grated Parmesan cheese

Extra virgin olive oil

Coarsely ground black pepper

Salt optional: the bacon is full of it

Parsley or basil as the final garnish
Let's assume that this meal is motivated at least partially by health requirements. The Mediterranean diet, of which this dish is a subset, is held in high regard. On the other hand, weight loss diets often give carbohydrates a big no-no. Well, what can I say in the face of all this wobbly diet science – except to note that al dente pasta has a significantly lower glycaemic index than the soft-cooked alternative?
So, if you are monitoring your glucose intake, cook yours al dente – firm to the bite rather than boiled to a sloppy pulp. It tastes better too. This is a two-process production. Firstly, prepare the pasta following the instructions on the packet. Since al dente is our desired outcome, taste-test the pasta as the final time approaches. Remove from boiling water, drain and reserve.
Stage two begins by removing the rind from the bacon and chopping it into strips 10mm wide. Pour sufficient extra virgin olive oil into a pan, just enough to cover the bottom. Bring this up to medium heat and fry the bacon for 10 minutes or so. Stir from time to time, then remove and reserve. Prepare the leeks by discarding the outer leaves and removing all traces of mother earth from the spaces between the layers. Chop the stems and add to the residue of olive oil and rendered bacon fat in the pan.
Give the occasional stir to avoid adhesions and subsequent burning which will contaminate the final flavour. Let the leaks fry until soft and golden. Make four indents in the cooked leeks about 70mm in diameter. Into them, pour half a teaspoon of olive oil and break one egg inside each. Fry the eggs until the whites are opaque.
Place the pasta in a serving dish and then over it, pour the contents of the frying pan, as well as the bacon. Evenly distribute the ingredients, sprinkle with some freshly ground black pepper, a few tablespoons of Parmesan cheese and garnish with fresh sprigs of parsley or basil. Enjoy – it's a delight.