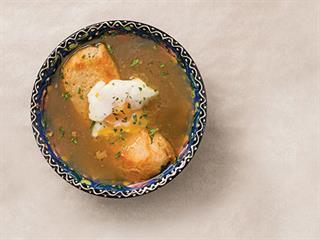 To make a Super Zuppa for four, you will need:
1,5l chicken stock
Italian (flat-leafed) parsley
4 slices of bread (preferably sourdough)
Extra virgin olive oil on demand
4 tablespoons of grated Pecorino or Parmesan cheese
Coarsely ground black pepper
4 eggs
2 tablespoons white vinegar

For the stock:
2l water
4 chicken backs
2 carrots
4 sticks celery
4 cloves garlic
2 onions
½ teaspoon whole white peppercorns
1 bay leaf
1 leek
We begin with the stock. Some classic recipes for Zuppa Parvese demand roasted chicken bones for the stock. This recipe cuts out some of the fuss by replacing roasted bones with smashed bones. Chop the chicken backs right through the bone. This will release marrow into the mix, which not only enhances the flavour but gives the stock the required light brown colour. Cut the leek, onions and carrots into large sections.
Crush and peel the garlic, then add all the ingredients to 2l of water. Bring this to a rolling boil, and immediately cut the heat back to a slow simmer.
Skim off the scum from time to time. After 45 minutes, pour the contents of the saucepan through a conical sieve, reserving the stock and discarding the solids. You may wish to chill the stock overnight, allowing you the option of dumping the solid layer of chicken fat.
Cut the sourdough bread into four slices and bake these in an oven preheated to 180°C on a baking tray lightly spread with extra virgin olive oil. Let them bake for five minutes a side, turning once, then remove them from the oven and place each in a serving bowl.
While this is going on, bring the 1,5l of stock to a rolling boil and season to taste with salt and pepper. Pour half the volume of just-boiled stock over the bread in each serving bowl.
In a deep frying pan, bring three cups of water to the boil and add the vinegar. Break the eggs one at a time into a cup, then gently pour the raw egg into the water and vinegar and poach them until the whites are firm and the yolks still soft. With a slotted spoon – and this is the bit requiring serious finesse – slide each of the poached eggs into a bowl with the stock. Bring the remainder of the stock back to the boil and pour it very gently over the eggs.
Wash the Italian parsley to remove all traces of Mother Earth, then tear each leaf in half by hand and garnish the bowls with the parsley. As a final touch, add a tablespoon or two of freshly grated hard cheese, either Pecorino or Parmesan. Some guests may request a dash or two of red Tabasco.
Enjoy!