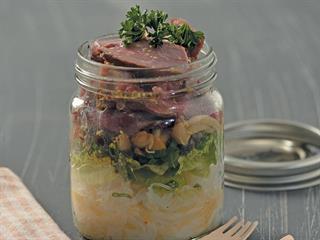 To make a Thai- influenced beef salad in a jar, you will need:
300g fillet or sirloin steak
5 leaves of cos lettuce
2 spring onions
10 small mushrooms
10 mint leaves
30ml fish sauce
1 teaspoon coarse mustard
60ml sunflower or canola oil
60ml lime juice
Coarsely ground black pepper on demand
1 cup cooked Asian noodles
Begin with the Asian noodles, which you will find without difficulty in a large supermarket. Asian noodles require less cooking than pasta, so follow the directions on the packaging. Cool with running water, drain and reserve.
Mix the dressing. These quantities will make double the amount required for one serving, so store the remainder in the fridge for later in the week. Don't use olive oil, as the flavour is inappropriate for this dish.
Combine the lime juice (or lemon as a substitute), the canola oil, coarse mustard and ¼ teaspoon freshly ground black pepper in a small lidded container, close it, and shake it until a partial emulsion is formed. Let this settle down until later in the proceedings.
Season the steak (cut off the fat if using sirloin) with a little salt and black pepper. Grill the meat at high heat, turning often with an egg lifter, not a fork. This will create a light crust from the caramelisation of the blood sugars. Remove while still rare. Let it rest under aluminium foil for five minutes, then cut it into thin slices.
Slice the baby mushrooms, fry them for a few minutes at most, and lay them out on a paper towel to drain. Wash and dry the greens in a centrifugal salad spinner or by wrapping them briefly in a freshly laundered and odour- free dish cloth. Finely chop the spring onions, bulbs included. Hand-tear the cos lettuce leaves and mint leaves in half.
Pour the wet, cooled, boiled Asian noodles in the bottom of the jar. Arrange the cos lettuce to form the next layer. Then place the mint leaves mixed with the spring onions on top of that, followed by the fried mushrooms. Conclude with the slices of room-temperature steak.
Remember the dressing in the little lidded container? Give it another round of agitation, then pour half the volume (or more if you like) over the ingredients in the Consol jar. This will follow its gravity-assisted course to the bottom, gently flavouring everything it touches.
That's all there is to it. If you're feeling creative, this version of the packed lunch allows for as many variations as you can dream up.
Just don't forget to pack a knife and fork …
David Basckin is a freelance journalist and videographer.