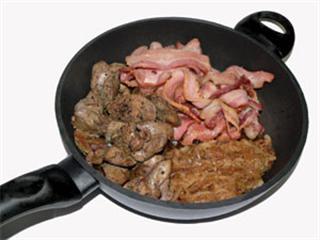 To make liver, bacon and caramelised onions for four you will need:
500g chicken livers
2 packs bacon
4 onions
40ml extra virgin olive oil
3 tablespoons brown sugar
30ml balsamic vinegar
We begin with the caramelised onions. Peel and thinly slice the onions. Select a heavy-based frying pan and pour in the 40ml extra virgin olive oil. Add the sliced onions and bring this up to medium heat. Stirring from time to time to avoid adhesions, allow the onions to sweat until they are soft and translucent. At this point add the brown sugar and the balsamic vinegar and stir once again to evenly distribute the ingredients. Lower the heat and let the contents of the pan continue to cook for another 10 minutes or so. Remove from the pan and reserve under cover for later in the proceedings.
Wipe out the pan with a paper towel and cook the bacon. At this point you have a choice. Either use standard smoked bacon or substitute 200g or so of Lonzino (whole cured pork loin with fennel, juniper and nutmeg). At R250/kg it gives this meal a lift into the stratosphere. Back to the hob. Remove the cooked bacon or Lonzino and fry the chicken livers in the bacon fat. Add a little olive oil if necessary. Take care not to overcook the livers as this will result in something like Masonite hardboard.
Return the bacon and caramelised onions to the pan with the livers for a minute or two to bring everything back to the right serving temperature.You can fry a few eggs and turn this collection of tastes into a fantastic breakfast, or you can make it an evening meal with broccoli and mash. Be adventurious with the mash: try mixing it with a tablespoon or two of basil pesto or some coarse, wholeseed mustard.
Enjoy!
Contact David Basckin at [email protected]. Please state 'Real cooking' in the subject line of your email.