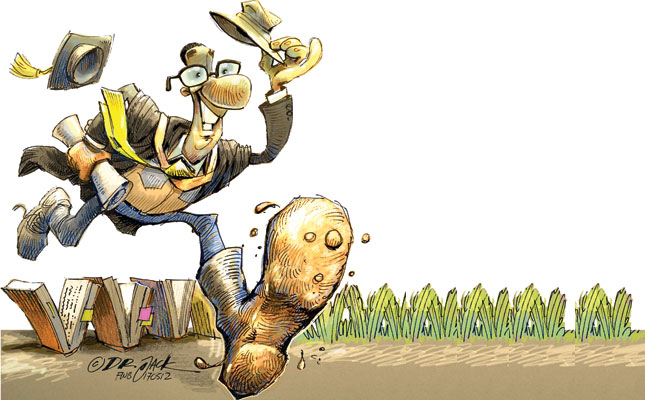 I have often heard farmers say that when they employ graduates from these colleges, they have to completely retrain and upskill them as they arrive ill-prepared for the realities of a career on a modern farm.
READ Customised training for commercial and small-scale interests
This, of course, is not a problem exclusive to the farming sector, and as with many things in South Africa at present, it seems that if you want something done properly, don't trust government with it, rather do it yourself. Which is exactly what many farmers and producer organisations are doing.
We should also not ignore the contribution that poor and insufficient skills training and education has had on land reform.
Some of the reasons most often repeated by land reform beneficiaries who failed to farm successfully on land given or returned to them is firstly, failure by the state to provide them with the training needed to run a farm.
READ Top female entrepreneur's passion for training new farmers
Second is the incompetence of extension officers who are supposed to provide the new farmers with guidance and training.
A report produced by the Agriculture Sector Education Training Authority (AgriSETA) in 2016 to identify scarce and critical skills and where the gaps were in providing training specifically for these skills plainly states that there exists a "mismatch between the demand for skilled labour, and the supply of unskilled labour".
Agriculture has long been a source of job creation for unskilled and poorly literate people, of whom South Africa unfortunately still has a very large number.
However, as agriculture continues to become more specialised, intensive and mechanised, opportunities for the unskilled will decrease, and even at the lowest level, workers will be required to have at least a basic level of literacy.
READ Concern over lack of training for future farmers
However, upskilling these workers poses a challenge, according to the AgriSETA report. It states: "There is a group of unskilled workers who are not eligible for lower level NQF [South African National Qualifications Framework] AgriSETA learnerships because they do not have the requisite basic literacy and numeracy skills."
The most urgent shortcomings that needed to be addressed within its own structures, according to the report, were: Practical skills transfer through mentoring and on-the-job training; improved quality of agricultural extension service qualifications; a focus on entrepreneurship and enterprise development for emerging farmers; addressing the corporate governance training needs to strengthen co-operatives; and the development of 'green knowledge' qualifications.
READ Drone technology maximises macadamia production
Overall, the report stated, skills shortages were experienced in literacy and numeracy; sustainability practices; business management capacities; corporate governance; and the quality of technical and research services.
The rate of change and technological improvement in agriculture is accelerating so fast that institutions that are supposed to produce workers for the sector are at risk of falling further and further behind.