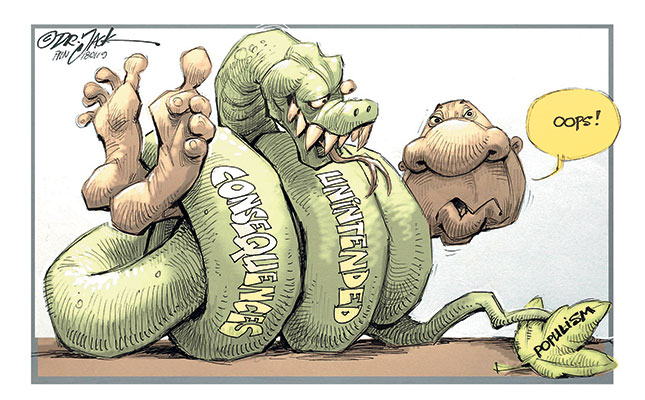 During his first major address in his new role, Ramaphosa affirmed the ANC's commitment to driving accelerated land reform and radical socio-economic transformation by seeking to implement expropriation of land without compensation.
READ Let farmers handle transformation
But then he added: "We must ensure that we do not undermine the economy, agricultural production and food security."
In this lies Ramaphosa's great conundrum: devising a single plan that brings together two irreconcilable ideas. As things stand, land expropriation without compensation will solve nothing and its implementation will wreak damage that will take at least a lifetime to undo.
Apart from the obvious economically devastating implications of the plan, given the current state of the departments that will have to implement such a programme, we can expect that precious little of the land expropriated will be given to those able to use it productively.
In addition, those who will be given land should not expect to receive the support they will need to use the land in a way that will actually improve their lives.
Furthermore – and this has been said many times before – if the ANC is sincere in its commitment to give land to black people, it can start doing so today by handing over title deeds to the vast amount of land owned by the state.
READ Take a cue from Asia on successful land reform
I suggest they start by giving Bothaville farmer Thulo Mahlatsi, Grain SA's 2017 New Era Farmer of the Year, the title deed to the 513ha farm which he currently has to rent from the state.
I wrote in January last year that one of the New Year's resolutions of the agricultural sector should be to organise a CODESA-type process for land reform. I hope that, in order to solve the great challenge he faces, Ramaphosa will lead such a process this year.
Whatever happens, it is becoming clear that the status quo cannot hold. For as long as poverty and inequality continue to plague South Africa, white farmers' majority share in commercial agriculture will not be tolerated by the landless.
I will leave you with this quote from John Steinbeck's The Grapes of Wrath, which tells of the struggles of tenant farmers in the US during the Great Depression:
"And the great owners, who must lose their land in an upheaval, the great owners with access to history, with eyes to read history and to know the great fact: when property accumulates in too few hands it is taken away. And that companion fact: when a majority of the people are hungry and cold they will take by force what they need. And the little screaming fact that sounds through all history: repression works only to strengthen and knit the repressed. The great owners ignored the three cries of history."