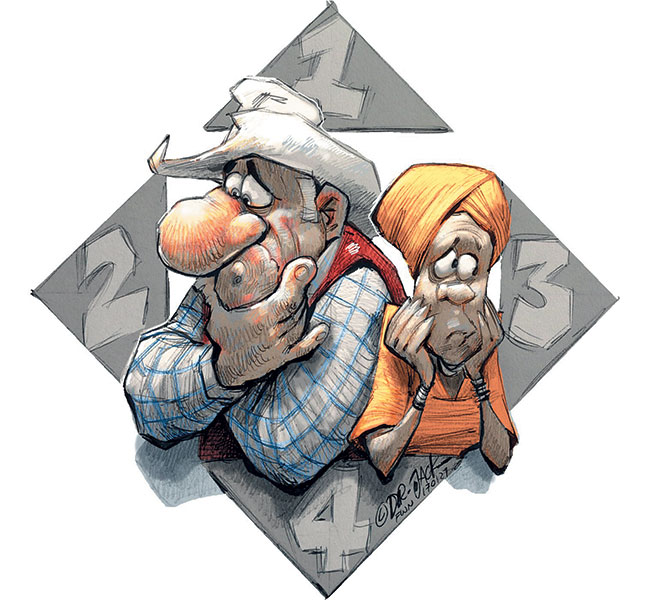 The world's food systems play a central role in the well-being of ecosystems and human societies, and are a key driver of economic livelihoods. They contribute to most of the 17 Sustainable Development Goals (SDGs) adopted by the UN in 2016. However, today's food systems will not be able to feed the world's growing population both nutritiously and sustainably.
However, today's food systems will not be able to feed the world's growing population both nutritiously and sustainably.
If the situation continues as it is, four future scenarios are likely:
Survival of the richest
Here, the patterns of 2016, wherein the richest 20% of the world's population consume 86% of the world's resources, are amplified. A few isolated, wealthy populations are able to produce and innovate to meet their needs; most countries experience intensifying hunger and poverty.
An increase in migration leads to increased xenophobia and isolationist policies. Climate change continues unabated. Technological innovation is defined by a broad disparity of access and adoption. Reactionary decision-making and a crisis mindset perpetuate a fragile system.
Unchecked consumption
The widespread belief that society can grow now and fix environmental problems later, combined with the ease of doing 'business-as-usual', sees technology spur efficiencies in food production and distribution, with yield improvements being the top priority.
Obesity and health costs rise dramatically. Natural resources are severely depleted. Decreased government oversight leaves space for innovation but weakens safeguards.
Open-source sustainability
Good agricultural practices, along with an increase in the availability of new technologies, see a proliferation of food sources, which improves the resilience of food systems. Increasingly interconnected trade, however, still leaves the world susceptible to the effects of extreme weather events and other economic and political shocks.
Local is the new global
Resource-efficient consumption and low connectivity of markets lead to fragmented food systems, with nations relying heavily on self-sufficiency, resulting in large variances in standards and protocols. Progressive policies successfully reduce the price of healthier food. Nations without adequate agricultural land struggle to meet demand and hunger hotspots proliferate.
How they work
To illustrate how each of these scenarios could work, let us use the example of Billy, a 58-year-old farmer on a large, family-owned grain and oilseed production operation in the US, and Fatma, a 45-year-old widow and smallholder farmer, on a small family-run coffee farm in Tanzania.
Unchecked consumption The demand for Billy's crops has never been higher, and he relies on more intensive farming techniques despite increasing soil erosion.
Meanwhile, foreign investors have bought the title to Fatma's land and she has to decide between becoming a contract farmer for a food export company, or finding a different livelihood.
Open-source sustainability
Productivity soars and Billy manages his farm on his iPad, increasing efficiency and mitigating risk. Recent legislation encourages him to start growing vegetables.
Fatma has joined a co-op. This means greater access to equipment and being able to adopt advanced farming techniques. More coffee is now being processed locally rather than being sold as raw material.
Survival of the richest
Given the fragmented and volatile market, Billy is increasingly reliant on government aid. New technology helps to protect his crops against extreme weather events, but he must secure more loans to afford them.
Life for Fatma and her family is more uncertain than ever, as access to both global markets and local resources becomes difficult.
Local is the new global
As producers focus on meeting local demand for diverse products, Billy is forced to move towards polyculture, an expensive and difficult transition.
As a result of the decrease in exports, Fatma no longer has access to consistent buyers for her coffee, but she has invested all her assets in coffee trees. She joins a regional farmers' organisation, which helps connect clusters of farmers to national markets.
All viable
Any of these potential scenarios might occur, and early signals of all four are already present today. Without careful attention, we risk compromising the ability of our food systems to secure health and nutrition within the means of the planet. The need for informed, measured, long-term thinking and action has never been greater:
Food production systems must be redesigned to focus on quality rather than solely on quantity. Even a future with higher yields has undesirable consequences if production is unsustainable.
Governments and private companies must invest in producers, and incentivise the production of healthy and sustainable food. An increase in on-farm diversity and food basket regions could increase the resilience of the system to inevitable shocks.
Climate change and natural-resource degradation will affect all future scenarios and require urgent action.
Poverty and malnutrition form a vicious circle that compromises access to food in rural environments, where even farmers are likely to suffer from hunger, and among the urban poor, where price and access can make healthier and more sustainable food options prohibitive.
Therefore, there is a need for inclusivity in all future scenarios, achieved through structural changes in policy and business models, as well as safety nets for the truly vulnerable.
New technologies and other innovations have the potential to revolutionise food systems but will introduce new challenges. Some technologies will take a decade or two to change food systems on the macro level.
At the same time, many will remain out of reach for most of the world's population. For these reasons, the impact of technology on food systems raises questions of access and control.
Unique opportunities
Future challenges present a tremendous private sector opportunity. Agile companies will recognise the need to think, prioritise and collaborate differently.
Opportunities include:
Investing in new products and advertising that promote healthier diets, as well as technology, infrastructure, equipment and services that preserve the nutritional value of foods.
Mitigating the effects of the systemic shocks that highly connected markets are prone to, through market transparency, risk-management policies and contingency plans that protect businesses and workers.
Increasing the resource efficiency of business operations.
Creating significant new value through innovations for food systems involving the Internet of Things, gene editing, 3D printing, robotics and other technologies.
Proactive policies are crucial and will involve:
Adopting a 'whole of government' approach to formulating food, agriculture and environmental policies for healthier diets. For example, public subsidies could be redirected to highly nutritious crops and lowering the price of these foods.
Promoting and rewarding climate-smart approaches.
Creating an enabling environment for inclusive technologies oriented to fundamental challenges in food systems. Continued public investment in R&D and advisory services will also be critical to enable uptake of technologies adapted to the specific needs of different food systems.
Building greater trust in businesses and governments through more responsible and transparent activities. For business, this means that short-term financial gains should not distract from long-term economic prosperity and social welfare.
For government, it implies policies that elevate inclusive social and environmental priorities now and in the future.
Courageous leaders will be needed in business, government and society to take a holistic view of challenges, engage with diverse players in the system to jointly tackle those challenges, and build new alliances to work towards shared goals.