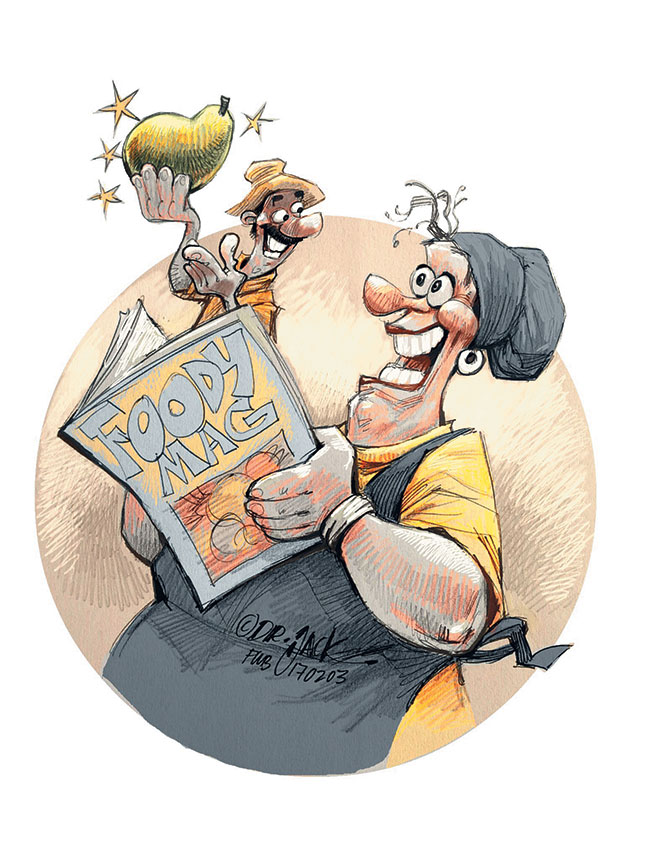 British farmers who can talk about their food in a way that appeals to consumers have a growth opportunity, says UK Agriculture and Horticulture Development Board chief strategy officer, Tom Hind.
Hind was addressing the recent Oxford Farming Conference.
This is equally true for SA farmers, as the growing interest in provenance brings consumers and growers closer together.
Consumers are increasingly influencing producers' planting decisions, as well as determining which cuts and styles of meat are desirable.
The hike in demand for cauliflower as a result of Tim Noakes's low-carb eating trend clearly shows the power that consumers have in influencing which crops are sown.
The 'build it and they'll come' business philosophy may have been the only consumer engagement required in a nascent economy, but today, with competition for tastebuds at an all-time high, more is needed.
For example, innovators are not only growing more courgettes, but promoting the vegetable as a pasta replacement. The need for innovation is a given and the expanding range of value-added products has proven this.
Influencing the taste shapers leads to influencing buyers. This is most effectively achieved through the correct marketing approach: have a story to tell and use it to create a demand by getting the influencers to engage with the story.
The meteoric growth in social media speaks not only to the egocentric society we live in, but to the desire for people to make connections with people and brands that resonate with them.
Correct marketing message
A multi-pronged approach is needed but it begins with getting the message right: what do you want to say about your product and your people, and how are you going to say it?
Communications consultants can assist businesses in crafting those messages and developing a marketing strategy around this story.
The fact that the consumer has a powerful role in determining the success of your business also means that those who influence the consumer have power as well.When it comes to food, a few influence many.
What you put in your mouth is your choice. One of the biggest food trends is the stratospheric growth in fussy eaters – people who, for a variety of real or imagined reasons, eat this but not that.
Restaurants are also shaping production by selecting certain cuts of meat. The popularity of pork belly, for example, began with top restaurant chefs serving it. This was followed by media coverage, and now pork belly is found on almost every restaurant menu.
Taste shapers are those writers who decide what to include in their recipe editorials. Public relations (PR) consultants for food brands also help to promote one product over another.
If you have any doubt about the power of PR over media coverage, page through a few different magazine titles published in the same month and note the number of similar brands, ingredients and restaurants mentioned.
Consumers are 'hungry' to know what is new, and the media, and those of us in media-support industries, are happy to feed that hunger.
You don't necessarily need a third party to achieve influence over the influencers. Just dedicate some time to reading the same media your target market reads and identify the influential writers – this way you will already be part of the way there.
Marketing expert, Seth Godin, puts it well: "The issue is not getting your word out. The issue is getting people to care. The answer is not to get your word out more. It's to change what you're talking about".
Also speaking at the Oxford Farming Conference, Simon Stelling, chief executive of food analyst MCA, said the UK's food service market had been worth more than £87 billion (R1,47 trillion) in 2016.
The number of people visiting restaurants and other food service suppliers continued to climb, with 93,1% of UK shoppers saying they regularly ate out in 2016.
Although the numbers are not as great in South Africa, growth in the eating-out trend is a given.
The increasing interest in food has also translated into a celebrity chef culture, a plethora of recipe books and a concomitant increase in food-related media. I help clients find the story to tell and then leverage my network of media contacts to encourage them to write about it.
In 2014, Nielsen commissioned a study on the role of content in the consumer decision-making process. It concluded that PR is almost 90% more effective than advertising.
Michael Levine, author of Guerrilla P.R., says the best analogy for PR is gift-wrapping.
"If I went to visit a woman today and gave her a gift in a Tiffany box, it would have higher perceived value, because she and you and I live in a culture where we gift-wrap everything – our politicians, TV stars and even our toilet paper".
A great example of the efficacy of industry-wide promotion is the success of SA Olive, the grower organisation representing local olive growers.
The organisation's 'SA Olive sticker' has become a seal of quality due to the media coverage surrounding the annual SA Olive Competition.
The organisation's competent and creative use of the media helped shape the now-entrenched perception that SA olive products, and extra virgin olive oil in particular, are on a par with, and in many cases superior to, well-known global brands.
The strategy was to not only tell the story of the quality and success of local growers, but to draw attention to the ways in which inferior products are often disguised and misrepresented.
The SA Avocado Growers' Association is another example of the positive impact of category marketing. Amongst other initiatives, they invested in sponsored content with Suzelle DIY's How to be an avocado aficionado.
But perhaps the most successful grower-driven marketing effort has been The Pink Lady Association. Although taking the lead from the global brand owners, the Pink Lady Association of South Africa has a number of local programmes and events around which they build stories to share in their social media communities and the general media.
Getting the message out
When devising a public relations campaign, start by establishing what sets you apart from your competitors. Select five points and flesh them out.
Perhaps you are the largest or the smallest supplier. Each has benefits; the former may mean you can guarantee volume; the latter, perhaps, that you're keener to gain market share and will work harder.
What do you and your team believe in? Perhaps you're innovative because of diminishing natural resources. Have you come up with a solution to use less water or adopted a technology to scan your crops for dry areas? Story ideas can flow from these.
Do you have a link to a farm school learner who has done very well? Or is there an employee who has outshone the rest?
What about the things that we do not typically associate with work: religious practices, sporting interest, a favourite recipe – each can produce angles for editorial copy to help you talk about your brand and influence the consumer.
It is not enough nowadays only to be a great farmer. You also need to be a great marketer and think about your produce and your employees as a journalist would. This will make you more successful.
Even if you do not have the resources for a consultant, do not make the mistake of doing nothing.
At least connect with journalists who cover your area and submit photographs and short news pieces to your local press. They will, naturally, ask you to buy advertising. That's their job.
But first find a way to tell your story in an article. Then, later, when you have a commercially focused need, take out an advertisement to support them.
Finally, when dealing with reporters: be pleasant, be accurate and, most important, be quick about it.