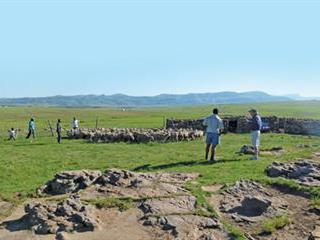 A mentorship initiative in Eastern Cape is changing the mindset of communal farmers and showing them that their assets – their land and cattle – can make them money. Mngcunube ('willow tree' in Xhosa)Development CC runs mentorship projects in the former homelands of Ciskei and Transkei, an area of about 50 000km².
Started in 1995 by Lyle Kew, the company's current CEO, and funded by local government and the South African mining industry, the scale of Mngcunube's operations is impressive. It employs 17 full-time livestock mentors and six garden mentors, mostly ex-farmers, and has helped more than 30 000 farmers in Eastern Cape and Lesotho since its inception, while also handling millions of head of livestock.
The Eastern Cape agriculture department was so impressed with Mngcunube's achievements that it was made one of its strategic partners for community livestock development in the province two years ago.
Positive impact
Mngcunube's project between Maclear and Mount Fletcher in the Elundini Local Municipality illustrates the impact its interventions can have on rural communities. According to Kew, the project, which ran from 2004 to 2009, involved more than 100 000 sheep and goats and 13 000 cattle belonging to more than 5 000 farmers.
Trained mentors provided services such as inoculation, dosing and dipping to control livestock mortality and boost the conception rate. This resulted in the average sheep flock increasing from 15 to 35, representing an increase in potential disposable income of more than R64 million from sheep alone (excluding wool).
Even the most basic veterinary intervention produced significant results, especially in woolled sheep. Mngcunube mentors treat animals at a number of centrally located villages in the different wards of the former homelands, and communal farmers pay per head of livestock for the service. All transactions, along with every farmer's production details, are added to an extensive database designed to measure progress.
"The mentor goes with a data collector and a field worker who collects the money. We don't believe in freebies," says Andrew King, Eastern Cape regional manager of Mngcunube. He explains that besides the advantage of mentors regularly bringing expertise and veterinary products to communal farmers, this fee is cheaper than if they were to purchase their own veterinary products. He explains that a farmer who's not supported by Mngcunube, and who has 20 sheep, would have no option but to buy 20l of dosing medicine – enough for 2 000 sheep – and so his small flock would cost him a fortune.
For farmers from the Emalahleni Local Municiplity near Lady Frere in the former Transkei, Mngcunube's work has made a huge difference, not only in terms of healthier livestock, but also when it comes to the farmers' morale. "My sheep were in a terrible state, but now that they've been treated, they are beautiful," says farmer Wandile Mbaba, who owns 18 cattle and 63 sheep. He adds that he encouraged his family to join Mngcunube.
Mentor Jan Roodt explains that he joined the company to help these farmers to help themselves. He handles 18 000 head of small-stock a month in a project that was launched in mid-2011, in conjunction with the Chris Hani District Municipality. "One guy told me that this past Christmas was different. Everyone wanted to eat his mutton, because his sheep had a bit of fat on them and their intestines were clean."
Andrew adds that the aim is to create sustainable projects, so each mentor is contractually obliged to train promising local farmers to take over the core business of the project, which is making animal medicine and treatment more readily available at fair prices.
These individuals are called village link persons (VLPs) and earn an income by a small mark-up on large volumes of sales.
The VLPs work with mentors for a year and are given training, explains Andrew. Once the mentor feels VLPs are ready, one of the managers will test them. VLPs then secure all the equipment and medicine they need and the mentor helps them get their business off the ground.
Growth issues
A worrying reality for the future growth of agriculture in the former homelands is that communal livestock farmers are mostly elderly.
"There are no youngsters taking an interest in livestock," says Andrew. "They do some herding during the holidays for their parents, but after that they're gone."
In addition, the lack of fencing impacts on the management of breeding seasons and combating red lice and sheep scab.Stock thieves are also a constant threat. "They don't want to work and they're lazy so they steal," says Wandile angrily. Farmers are forced to put their livestock in kraals every night to prevent theft, which has a negative impact on general production. Meanwhile, wet conditions in kraals promote the spread of foot rot.
Finally, says Andrew an increase in livestock is likely to impact on already sparse grazing in the highly populated areas. Therefore Mngcunube's future plans include creating effective marketing channels for these communal farmers. "It's all very well increasing the numbers, but we also need to get rid of livestock," concludes Andrew.
Contact Mngcunube Development CEO Lyle Kew on 083 262 0943, or [email protected], or visit www.mngcunube.co.za