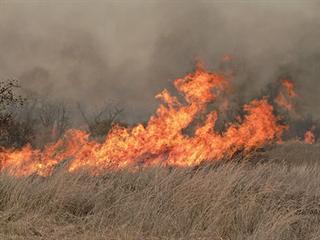 "I have never seen veld fires accompanied by such high winds in our area and I've lived here for 59 years." So says farmer and chairperson of the Caledon West Fire Protection Association, Daan Wilken, of Van Stadensrus between Wepener and Rouxville in the southern Free State.He adds grimly that the fires have come on top of a drought. Daan is one of a number of people interviewed by Farmer's Weekly in the wake of recent fires in two provinces. They will remember the spring of 2013 as a time of empty dams, dry veld, dying livestock and devastating fires.
Southern Free State
The fires destroyed more than 100 000 ha, says Malcolm Procter, National Department of Agriculture's Deputy Director: Forest and Veld Fires, in the Dewetsdorp, Wepener, Zastron and Rouxville areas. According to him, extremely dry conditions and powerful winds meant that fires burnt grass to the roots and leapt over bare ground.
"When I was on Constantia (a farm near Rouxville destroyed by a fire on 19 September), the fire appeared with frightening speed. I saw flames running on a bare road; there was a fire coming towards me on the road and then it disappeared," recalls Daan. Rouxville farm manager Fanie Fourie lost 2 850ha on 19 September. "The veld was like tinder, it just went up. Nothing could stop it," he says.
Fanie was unable to save all his animalsand 140 sheep burnt to death. Sheep and cattle are now lambing and calving on burnt veld in drought conditions. "Earth dams are empty and full of mud – all we can do is try to keep our animals alive," he says. "They'll have to be fed. Our birth percentages will be low and we'll really feel the financial pressure next year when there's no progeny to market."
Fortunately, says Fanie, the fire missed about 700ha where most of his animals had been moved. Others were not as fortunate. Several local farmers whose lands were burnt out, have been supported by donations of feed and grazing from fellow farmers and from Voermol Animal Feeds. "Neighbours have come to help with grazing for a group of cattle here, and another group there," he says. "You don't get help from anybody else, it's just the farmers around you."
Another farmer badly affected by the 19 September fire was Zastron-based Meendert Cruywagen, who lost 95% of 3 500ha of grazing in the Zastron and Rouxville areas. "I wonder if I have 150ha left. There are just bits and pieces that haven't burnt. Just about everything is gone," he says. Meendert lost 130 sheep and 30 cattle, either burnt to death or lost due to drought-related incidents, such as one in which seven cattle collapsed in the mud of the Caledon River.
The fire also destroyed fencing and irrigation equipment on his farm, as well as four buildings storing feed, six tractors, a bailer, a welding machine and all his tools. With no grazing, he has had to sell stock. "I've kept back a nucleus of animals
on other farms, so that I can start farming again." Also from the Zastron area, emerging farmer Ishmael Dzai lost 200ha of the small 350ha farm near the Lesotho border that he leases from the state. The fire has been devastating for him: he is feeding his cattle and goats on increasingly expensive lucerne bales (now more than R100 a bale) and cubes. But there is little alternative. "Farmers who are not feeding are losing cattle," he says.
Taps running dry in Lady Grey
Across the barely flowing Orange River in the Eastern Cape, the drought has tightened its grip on the town of Lady Grey. When the town water supply dam ran dry in September the municipality funded and sank nine boreholes to supply residents with water. "There's no water in the Lady Grey dam," says a worker from Joe Gqabi District Municipality (JGDM), who preferred not to be named.
Although one senior JGDM official could be reached, he wished not to comment and Farmer's Weekly was unable to get a comment from the district municipality. Meanwhile, in Lady Grey water tankers arrive every two to three days to fill up plastic tanks in yards, including that of Vincent Keogh. He points out that the irresponsible use of underground water by the JGDM should not be taken lightly.
"They've put in boreholes from which they are sourcing water to drive to us," he says. "I have a borehole in my yard which has run dry because of all these boreholes." Vincent goes on to hint at a broader social challenge facing effective water supply in Lady Grey.
"It's dry, but the town's dam could have supplied Lady Grey as it was. Unfortunately, Kwezi Naledi (the township) grows every year by 100 to 200 houses and they're talking about putting in another 500 houses next year. They should secure water for those (new) homes before they build them." On the way up Joubert's Pass, next to which the almost empty Lady Grey dam is situated, I meet Baardjie Mkele, an elderly stockman making his daily journey to a muddy Witfontein dam made available to desperate livestock owners dependent on the town commonage.
"There's no water where we graze the cattle, so I bring them here every day," he says. "I don't know what I will do; the Lord will bless me." On the way to the dam, I meet Lady Grey Arts Academy pupil Elroy Brown, on his bicycle. He guides me to the dam and tells me that the water flow at his school "comes out slowly". This makes sense, judging by the state of the dam, which contains just a pool of muddy water at its bottom.
Silence – and condemnation
Down the road, near the Transwilge township, I meet Godfrey Plaatjies, who blames the local Senqu Municipality, which falls under JGDM, for the town's water woes."It's the municipality. There are funny things going on," he says. "People are tired (of this), but they don't want to talk. They're scared." A feature of the day was just how many people in the township of Kwezi Naledi were unwilling to talk, apart from Bianca Senaune at a borehole, who was pumping water into a bucket.
"It's not the fault of the municipality," she says with a broad smile. "It's the rain."
Eastern Cape highlands
On 11 and 12 October a fire, driven at times by gale force winds, swept through parts of the Witteberg and across more than five farms in the Wartrail area of Barkly East. Allegedly started from a smouldering cooking fire left unattended by builders, it destroyed thousands of hectares, Wikus Venter, of Abo farm, may have taken the worst punishment from the fire, losing 3 400ha to one of the most powerful blazes he has ever seen.
"It was a vicious fire," he says. "The wind was so strong there was nothing we could do.'' So fast was the fire
that Wikus was unable to remove all his calving cows in time, and lost twelve with almost the same number having their udders severely burnt.As was the case in the Free State, it was the local farmers who selflessly helped Wikus with feed and grazing.
"Luckily, I have had people bringing in hay and so on," he says. "But I'm battling because the cows are calving now and you can't trek with cows and little calves, so I have to feed them here." According to Ross Sephton, who grew up on the farm Glengyle, through which the same fire swept, he has never witnessed a fire such as the one that threatened his family home on 12 October.
"The fire on Glengyle was certainly the worst I've ever experienced," he says. "Difficult to describe, save to say that I had already made peace with losing the farmhouse. I was convinced that the house would burn after 30m to 40m tall pine trees adjacent to the building went up." Fortunately, the fire bypassed the house but consumed many of the 90-year-old pines with frightening speed.
"The flames were fanned by high, erratic winds, and were at times double the height of these trees," says Ross. "People and vehicles often had to scatter." On the positive side, Ross was deeply impressed by the way the community rallied an effective fire-fighting team of more than 100 people on Glengyle, including farmers, farm workers, municipal fire fighters and a helicopter provided by JGDM Disaster Management.
"I've always maintained that sport unifies our rainbow nation and politicians divide us," he says. "Now we can add that natural disasters like this fire do the same job of uniting us. For a while, we temporarily forget our race, colour and creed for a common cause."