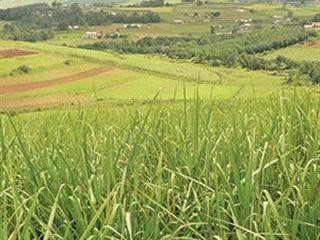 A dynamic public-private partnership. A good dose of determination. And excellent soils. It's a potent combination – and in the Swayimane Traditional Authority area in the KwaZulu-Natal Midlands it has produced remarkable results. Just over a year ago, much of this area had been either vacant and used as natural grazing for communal livestock owners, or fallow, weed-infested former sugar cane lands abandoned by bankrupt farmers. Today, the area has been transformed into numerous small but well-maintained sugar cane plantations.
This success story is due to the efforts of a number of public and private stakeholders actively involved in assisting more than 47 Swayimane farmers to establish a sustainable sugar cane co-operative. The co-op itself is called Siphapheme ('We have awoken') and the entire programme Project Khula ('Grow'). It is jointly funded by the Coca-Cola Foundation and the World Wide Fund for Nature, and administered by the Noodsberg Cane Growers' Association from its headquarters in nearby Wartburg.

Some of the stakeholders who are working together towards the sustainable success of Siphapheme Farmers' Co-operative are (from left): Patrick Bhengu – grower support officer with SA Canegrowers; Jurgen Witthöft – project co-ordinator for Project Khula; Ntobeko Matolo – controls and compliance officer with Umthombo Agricultural Finance; iNkosi Nkosiyezwa Gcumisa – chief of the Swayimane Traditional Authority; Mzwemali Thusi – founder and chairperson of Siphapheme Farmers' Co-operative; and Leon Munsamy – regional economic advisor for KZN Midlands with SA Canegrowers.
Other stakeholders include Illovo Sugar's Noodsberg Sugar Mill, SA Canegrowers, the South African Sugarcane Research Institute (Sasri), the KwaZulu-Natal Department of Agriculture and Environmental Affairs, and the Department of Trade and Industry's Small Enterprise Development Agency. The project co-ordinator is Jurgen Witthöft.
Although this support has been crucial, a large part of the co-op's success has been due to the members' willingness to accept guidance and apply it energetically and consistently. Mzwemali Thusi, Siphapheme's founder and chairperson, says: "We are trying to become as independent and self-sufficient as possible in growing our sugar cane. We don't want to always depend on outside help to be successful farmers."
It was Mzwemali's vision and drive that gave rise to the co-op in the first place and led to it lobbying relevant public and private entities for support. "Our members each have only one or two hectares of communal land to grow sugar cane," he explains. "Individually they were struggling to produce good harvests. But through the co-op, we've pooled our lands, financial management, knowledge and labour into a single commercial business. We're also lucky to have our iNkosi's [chief's] support for our idea."
Chief Nkosiyezwa Gcumisa, confirms that he is fully behind Siphapheme's determination to succeed, and emphasises the need to work as a team. "There are many unemployed people in Swayimane," he says. "A person who has no job must work the soil determinedly, and not become disillusioned. And what's important is that the people must work together and not against each other."
Leon Munsamy, SA Canegrowers' regional economic advisor, agrees with this sentiment, adding that the co-op holds opportunities not only for its members but for other Swayimane residents too. "Provided the growers follow proper crop and financial management guidelines, their collective 40ha of land will yield at least 4 000t, at an initial average of 100t/ ha to 110t/ha every two years," he says.

Swayimane, home of Siphapheme Farmers' Co-operative, suffers from poverty and high unemployment. The co-op is helping to create jobs.
This crop will be crushed at Illovo Sugar's nearby Noodsberg Sugar Mill, and Leon estimates that the gross return from the first crop at the end of 2013 will be about R1,6 million. Expenses to date have amounted to R716 000. The gross income will be used to pay off part of Siphapheme's production loan sourced through Umthombo Agricultural Finance, and a portion will be retained for managing the ratoon crop. The net profits earned by the co-op will be paid out to members pro rata, based on the size of their land.
Additional opportunities
In order to earn an income from the project, members are employed by the co-op as labour. Other community members can make a living in the same way or by providing contracting services for activities such as land preparation, planting, in-field cane loading and haulage to the mill. One contractor was able to use her profits to buy a cane haulage truck.
The co-op has also produced indirect spin-offs for the community, and these are set to continue. For example, income earned by co-op employees is spent in local shops, and it is hoped that the co-op's continued operations will encourage unemployed Swayimane residents to establish various support businesses to Siphapheme, even if these are informal and small.
"Employment opportunities created by Siphapheme already include about 1 640 person days during the planting phase," explains Leon. "During harvesting, this will be about 1 030 person days, and during the ratoon management phase it will be approximately 640 person days. There will also be downstream employment opportunities created by hauliers, millers, processors and retailers."

One Swayimane resident was able to use her proceeds from contracting to the co-op to buy a sugar cane haulage truck.

Ntobeko Matolo, the controls and compliance officer for Umthombo Agricultural Finance, explains that Siphapheme was loaned production finance totalling R837 000 at 8% interest through Micro-Agricultural Financial Institutions of South Africa (Mafisa), an initiative of the Department of Agriculture, Forestry and Fisheries.
The loan will be repaid over a period of four years from payments received from Noodsberg Sugar Mill after each harvest.
"Our evaluation of the co-op indicates that it will have enough income to repay the loan and retain funds to maintain the crop for the next season," says Ntobeko. "The input suppliers and contractors to Siphapheme are paid directly from the loan account into their bank accounts to ensure that funds are used for the intended purposes."
Best practice
The co-op is the first of its kind to be assessed according to the Sustainable Sugarcane Farm Management System (Susfarms) adopted by South Africa's sugar cane farming sector. Susfarms encourages best-management practices among its members. Jurgen Witthöft and Sasri extension specialist David Wilkinson conducted the assessment.
"The first evaluation found that the co-op needed improved land-use planning, better agronomic record keeping, and contractors who were compliant with labour, management and health legislation," says Jurgen. When shown the results of the assessment, Mzwemali felt apprehensive about the complexity of operating a sustainable and legally compliant sugar cane farming operation. However, once it was explained that Project Khula and other stakeholders would be on hand to provide backup, the benefits of following Susfarms' guidelines became apparent to him.

According to Jurgen Witthöft, Swayimane has among the most arable soils in the country, with the potential to yield a phenomenal 200t/ha of rainfed sugar cane on a 24-month cycle.
"Our supporters are strict and straightforward, which we appreciate," says Mzwemali. "If they see weeds growing in our sugar cane, for example, they'll be sure to express their unhappiness. They don't lie to us. This is good for the farmers and for the whole operation."
Turning to the future of the co-op, he adds: "There are people who see Siphapheme's progress and now want to join us and benefit. This is fine, but they have to realise that if they don't work hard or are not honest, they will not make it. People must not expect to make money if they don't have sugar cane in the ground or are not looking after it properly. This is hard work. We need people who are up to it."

Contact Jurgen Witthöft on 082 744 4699 or email [email protected]; Mzwemali Thusi on 071 393 8450; Leon Munsamy on 083 469 7949 or email [email protected]; Ntobeko Matolo on 083 561 2778 or email [email protected]