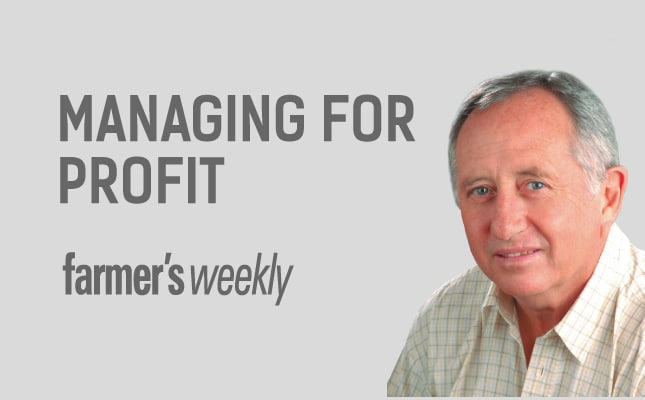 Global road, sea and air transport stopped in its tracks; fertiliser, pesticide and packing materials not reaching the farm in time, if at all; feed supplies delayed; informal traders chased off the streets.
The coronavirus disease (COVID- 19), with its accompanying lockdowns, has been a classic black swan event.
Often in the past, when identifying the steps required to mitigate risk, I've been asked, "How much reserve cash do we need to build up?"
My answer has been: "It depends on the nature of the business, how much cash you can raise from lenders, the depth of your pockets, and your level of commitment."
This response never satisfies anyone. Managers want a rule of thumb to help them decide how much ready cash the company should hold in reserve for bad times.
So, when pushed to make a call on this number, my stock answer has become: "Assume a year with zero income and build a reserve that can cover all expenses for that year."
Taking action now
It might take some time to build up a reserve, but in the meantime there's work to be done. In her 'From the Editor' column (FW, 15 May 2020), Denene Erasmus did a masterful job of putting her finger on four of the crucial issues you need to review. I'll expand on these a bit:
Diversify your market
Never depend on a single product or marketing channel. COVID-19 gave citrus and avocado exporters some anxious moments when shipping was disrupted (thankfully for a short period). Perishable product exporters dependent on air freight have been decimated. Produce multiple products, and sell them through multiple channels.
The informal market is massive
The lockdown has shown just how important this market is. Huge volumes of lower-grade product serving customers unable to frequent supermarkets are sold this way. Many farmers make direct farm-gate sales difficult for bakkie traders. Welcome them, and sharpen up your service levels to these buyers!
Restaurants and hospitality
Here, too, the high volume of top-quality product moving onto the market seems not to have been appreciated. Many resorts are far from towns and formal markets, and there is a need for consistent quality and reliable delivery. Consider servicing them; it will provide a downstream opportunity to diversify your business.
Farm inputs: buy local
Many farmers who imported their farm inputs, either in full or in part, learnt a painful lesson when these inputs were delayed or cut off completely. In future, buy local!
Do some deep thinking about your present business model, its products and vulnerabilities.
As Johann Rupert so eloquently reminded us, "This is not a pause. It's a reset." Once you get your breath back as we exit the lockdown, take his advice seriously, and make some changes to your life and business.