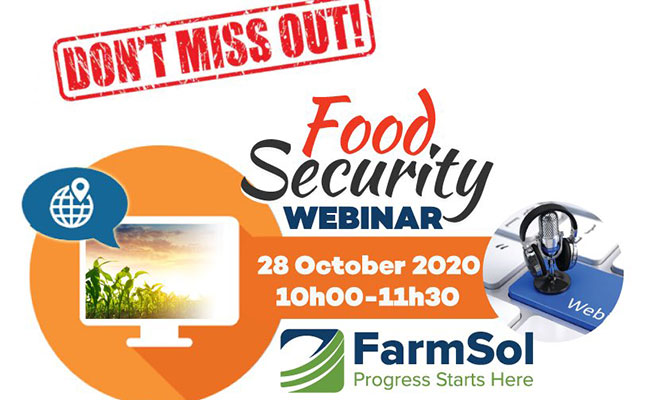 Over 14 million people were food insecure across South Africa pre-Covid-19, with the number expected to drastically increase as millions of people lose their jobs due to the pandemic. But who should be blamed for this situation?
Is it a sign of farmers failing the consumers or governments and business failing farmers?
FarmSol, an agricultural services company focused on the development of emerging and smallholder farmers, in partnership with one of South Africa's leading agricultural magazines, Farmer's Weekly, is hosting a panel discussion during which industry leaders will discuss issues affecting food security in South Africa, and ways to mitigate these.
Aron Kole, managing director of FarmSol, says that the answer is far more complex, suffice to say, the response to food security is everybody's business.
"No single entity or category of stakeholders can ensure food security by themselves, without the support of various cross-sector collaboration efforts. We believe that food security and poverty alleviation is a collective responsibility."
The webinar will be moderated by Denene Erasmus, editor of Farmer's Weekly, and include the following panellists:
Aron Kole, managing director of FarmSol.
Prof Mohammad Karaan of the Agricultural Economics faculty at Stellenbosch University.
Dr Marc Wegerif, lecturer in development studies at the Department of Anthropology and Archaeology at University of Pretoria.
Andre Cloete, an award-winning fruit farmer, who farms on leased land near Grabouw in the Western Cape.
DATE: 28 October 2020
TIME: 10:00 to 11:30
LINK: Click here to register for the webinar. 
More information about the panellists:
Denene Erasmus is the editor of Farmer's Weekly South Africa. She has been an agricultural journalist since 2009 and has won a number of international and national awards for her reporting on farming, conservation and the agribusiness sector in Africa; including International Federation of Agricultural Journalists and Alltech International Award for Leadership in Agricultural Journalism in 2019, and the Agricultural Writers South Africa/Agri Securitas Agricultural Journalist of the Year award in 2012 and 2014.
Erasmus is a member of the alumni network of the Bloomberg Media Initiative Africa. She holds a master's degree in languages from Stellenbosch University, an honours degree in Media Theory and Practice from the University of Cape Town.
Her writing covers a broad range of topics related to agriculture, agribusiness, African development, rural development, climate change and conservation.
Aron Kole is a business leader and agricultural executive, with more than 14 years of versatile agricultural industry experience, covering agronomy, business development project management and strategic leadership.
This experience is backed by a Master's Degree in Business Administration (MBA) and strategic leadership and advanced project management qualifications.
He has a wealth of knowledge and experience in designing bespoke agricultural solutions and agricultural support programs, directly with producers and corporates thereby ensuring alignment and shared value.
Dr Mohammad Karaan is Professor in Agricultural Economics at Stellenbosch University, where he graduated with a PhD (Agric) in 2006. He joined the Development Bank of Southern Africa as an economist and thereafter joined the Rural Foundation as Head of Research.
In 1996, he joined Stellenbosch University as a lecturer in the Faculty of Agriculture and became Dean of the Faculty of AgriSciences in October 2008, and was reappointed in November 2013 for a second term.
From May 2014 until May 2015, Prof Karaan served as Acting Vice-Rector at the University. He is former chair of the NAMC and a Commissioner of the NPC. He serves on various boards.
Dr Marc Wegerif has worked on development and human rights issues in a range of organisations for about 30 years, with a focus on food systems, economic justice, and agrarian reform over the last 20 years.
Before taking up his current position as a Development Studies Lecturer, Marc was a post-doctoral research fellow at the Human Economy Programme, University of Pretoria, doing research on food systems and land rights.
Prior to joining academia, Marc was the Land Rights Policy Lead with Oxfam International responsible for global advocacy and coordination of the organisation's land related policy and advocacy work.
Other recent positions held include consulting to national and international development agencies and holding the position of Food and Land Rights Advisor with Oxfam.
This involved developing Oxfam policies on food and land issues, international campaigning (on trade, climate change, land and food policy), managing several multi-country projects and providing internal advice.
Previous work includes extensive work with at range of South African non-government organisations, including starting and running several development organisations.
Marc obtained his PhD in Rural Sociology from Wageningen University. The focus of the research was on the food system that feeds the large and fast-growing city of Dar es Salaam. His Master's Degree (obtained cum laude) is in Land and Agrarian Studies from the University of the Western Cape.
André Cloete grew up on a farm near Grabouw and has been dreaming of becoming a farmer since he was six years old. After school he did an agricultural diploma at Kromme Rhee and from there studied irrigation design at the Cape Technikon.
He started working as a surveyor and assistant designer at Elgin Cooperative in Grabouw in 1988, where he stayed for almost seven years before getting appointed as an assistant farm manager at an apple, pear, and plum farm in Elgin.
After 14 years at the farm, he decided to do his own thing and identified five farms, two in Grabouw and three in the Caledon area where he wanted to farm. In December 2008, he got the opportunity to farm on the PLAS farm, Klein Ezelsjacht, where he is still farming today.
Cloete has more than doubled the farm's production capacity since he started farming there and has won numerous agricultural accolades and awards since then, acknowledging him as a leader in his field.