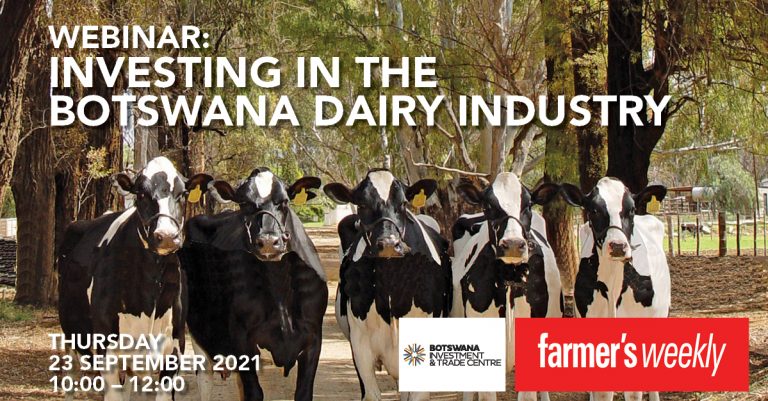 You are invited to a Zoom webinar:
DATE: 23 September 2021, 10:00am
TOPIC: Investment opportunities in Botswana's dairy sector
| | | |
| --- | --- | --- |
| Start Time | End Time | Item |
| 10:00 | 10:05 | Opening and introductions (Janine Ryan) |
| 10:05 | 10:10 | Introduction (High Commissioner Tshenolo Modise) |
| 10:10 | 10:35 | Doing business in Botswana (Keletsositse Olebile) |
| 10:35 | 10:55 | Investment opportunities in Botswana's dairy industry (Letsomo Mariri) |
| 10:55 | 11:10 | Botswana imports board representative |
| 11:10 | 11:25 | Questions and answers |
| 11:25 | 11:40 | Closing remarks (Emmanuel James) |
The BITC is a public enterprise that falls under the Ministry of Investment Trade and Industry of the Republic of Botswana. The BITC is mandated to attract foreign direct investment into Botswana; promote Botswana's exports abroad; and to offer pre-investment and after-care support services to investors.
BITC therefore extends a warm invitation to South African dairy farmers, feed manufacturers in the dairy sector, technology providers, as well as other input suppliers in the dairy value chain to participate in this webinar.
The dairy sector in Botswana faces many challenges, which presents farmers, processors and investors with many investment opportunities on which to capitalise. One of the challenges facing the dairy sector in Botswana is the need to increase the national dairy herd. This can be achieved by employing assisted reproductive technologies, such as embryo transfers, artificial insemination and the importation of cows.
Background information
The commercial dairy industry in Botswana is in its infancy. Dairy enterprises are categorised into small-, medium- and large-scale operations. Local milk production is 15% of national consumer demand, implying that 85% of liquid milk is imported.
Annual national milk demand is about 65 million litres. Average milk production per cow per day is around 16 litres. There are four major milk pasteurising plants in Botswana, including Clover, Lactalis (Parmalat), Foods Botswana and Sally Dairies. There are also small-scale pasteurisers in areas such as Maun, Palapye, Gantsi and Molepolole.
Other challenges that the dairy industry faces include recurrent droughts; outbreaks of disease; inadequate and expensive dairy feeds; unskilled labour; limited land for dairy farming; and an undeveloped value chain.
There are therefore many investment opportunities in various categories of the dairy industry in Botswana, such as in:
Milk production;
Heifer production;
Fodder production;
Milk processing (fresh milk, UHT);
Milk=products processing (cheese, butter, yoghurt, sour milk, cream).
Speakers
The confirmed speakers for the webinar are:
Tshenolo Modise, High Commissioner of Botswana to the Republic of South Africa
High Commissioner Tshenolo Modise is a career diplomat who joined the Botswana Foreign Service 29 years ago, and has served in several capacities in Botswana and abroad. Modise's most recent assignment was as High Commissioner to the Republic of Namibia for six years where she was accredited to the Republic of Angola and to the Republic of Congo.
2. Keletsositse Olebile, CEO, Botswana Investment and Trade Centre
Keletsositse Olebile is the CEO of the Botswana Investment and Trade Centre. His role includes being the lead advocate for a competitive and attractive investment climate in Botswana; facilitating domestic and foreign sourced investments; providing after-care services for companies doing business in Botswana; facilitating regional expansion by Botswana-based companies; and facilitating Botswana's goods and services into diversified export markets.
Of great importance within his role is national image building, and the creation of global awareness of Botswana through the Brand Botswana portfolio. He currently serves as board member of the Special Economic Zones Authority and the Non-Bank Financial Institutions Regulatory Authority.
3. Letsomo Mariri, chief scientific officer, Department of Animal Production (Botswana)
Letsomo Mariri is chief scientific officer in the Department of Animal Production of the Ministry of Agricultural Development and Food Security (Botswana). He is the head of the dairy unit.
He graduated from the University of Botswana with a bachelor's degree in agriculture, and has a diploma in animal health and production. He has also attended dairy production courses in Japan, the Netherlands and Malawi. He was part of a benchmarking team to Kenya's dairy industry in 2014.
Mariri has extensive experience in dairy production. He contributed to the formulation of the Dairy Development Strategy in 2013 and partook in the Dairy Value Chain Study of 2015
4. Emmanuel James, dairy consultant
Emmanuel James has been a management consultant for more than 30 years and has been at the helm of PR Executive, a general business consulting firm, specialising in accounting and company secretarial services. In 2020, he formed a sector-specific consulting company called Dairy Consult. He has been actively involved in the dairy sector since 1996. Amongst the company's key clients are Clover Botswana and Sunnyside Dairy Farm.
James participated in the current Infant Industry Protection proposal to SACU for the dairy industry. He also has 30 years' management consulting experience for SMMEs in Botswana on various subjects, including in management training, business planning, product development, diversification and analysis with a view to profit maximisation, and training.