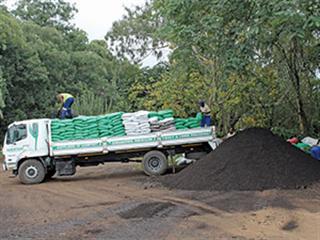 Farmyard Organics is a composting company based just north of Pietermaritzburg. Operating in an extremely competitive market owner John Kidger has taken to social media as part of an innovative marketing campaign to win market share.
John bought Farmyard Organics in May 2008 when the company employed 11 people and sold 800m³ of compost a month.
There are now 33 people employed by the company which sells 2 000m³ of compost a month, with 50 000m3 of raw materials on site at any time. John has acquired a second site in Umlaas Road capable of processing a further 2 000m³ a month and is determined to ensure growth.
Social media marketing
"We have grown our customer base of seedling growers and gardeners by advertising in customer specific magazines. But with a product like compost it's difficult to differentiate between competitors. Marketing is one area where we can differentiate ourselves. Our challenge was to make compost sexy and quirky. This is how the social media angle was born," explains John.
John opened a Facebook page in May 2012 and describes the growth as "phenomenal". "Our target was to hit 5 000 'likes' by December but it looks like we'll be there this month," he says. For the uninitiated, a 'like' is when a Facebook user clicks a 'like' button to receive postings from that site and to indicate to his/her Facebook friends that the site is of interest to them. The Farmyard Organics Facebook page has become a source of all-round tit-bits from the social media realm. Not all postings are related to compost. There have been recipes for weekend braais, instructions for making organic flea dips and unique gardening projects.

Showing keen interest in Farmyard Organics' new social media campaign are (from left) John Kidger, Michelle Eaglestone, Wendy's Legs, Mandy Westbrook and Wilhelm Laue.
Content is posted to the Facebook page by Farmyard Organics' five office staff, who have the freedom to select content to post for one day a week. An in-house competition gives an afternoon off to the person who gets the most 'likes' and 'shares' from readers. Random draws are held for prizes and email addresses from entrants go onto Farmyard Organics' database. "Competitions generate a substantial database, which can be used to send out newsletters or news of special offers," John says.
Another element of its social marketing campaign is 'Wendy's Wednesday Legs'. Every Wednesday, a truck leaving the Farmyard Organics depot has a pair of stockinged mannequin legs planted into the compost. Motorists who spot Wendy's legs can facebook message or email the company, saying when and where they saw the legs. They then stand a chance of winning a prize.

Measuring the return
Farmyard Organics is not alone in turning to social media to entrench its brand in the market. Many large corporate brands in SA have woken up to social media, which has 5,5 million Facebook users and 3,5 million Twitter users in SA. Like John, most companies are still feeling their way around this new medium. "We are still getting to grips with how to measure our social media effectiveness. The Facebook site targets customers who buy compost at garden shops so it's difficult to tell whether the exposure we get on Facebook is converting into sales," says John.
Mike Wronski, CEO and founder of Fuseware Social Media Analysts, agrees that social media is very difficult to correlate with return on investment. "It is based on intangibles such as relationships and conversations and converting such data into a Rand-value metric is extremely challenging. There is no hard and fast equation for determining the monetary value of a fan or a follower," Mike says.
This does not mean that social media has no value. "If a business understands its goals and objectives and implements a well thought-out strategy to engage and build a community around its brand, the value it receives compared to its investments is often monumental." Businesses like First National Bank and Pick n Pay have successfully repositioned their brands through social media strategies. "Even the most bureaucratic organisation of all, government, is using social media effectively through the presidential Twitter account," Mike adds.
Cost-effective exposure
The power of social media lies beyond brand exposure and public relations. "It is a useful channel for customer relationship management, market research, competitive research and even crowdsourcing ideas (using large online groups to create ideas for your company)." Digital marketing, and social media in particular, can be accurately tracked and easily managed with a tight control over costs.
"This allows a business to expose their brand cost-effectively to a large online audience, and target their prospective customers more easily than traditional mass media can. Many businesses, small and large, are experimenting with social media and other forms of digital marketing," says Mike. John says the time spent on their social media campaign is worth the effort. "We get a lot of mileage out of social media and are geared up to meet a surge in demand. Our slogan is "We'll help you grow" and that's what drives us."
Contact Farmyard Organics on 083 257 9594, email [email protected] or visit its Facebook page at http://www.facebook.com/farmyardorganics. Email Mike Wronski at [email protected]