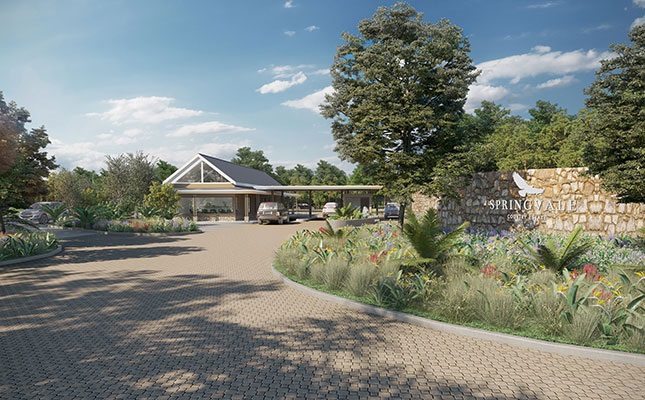 Not much beats a farm lifestyle: generous family homes, lots of space for kids and pets to roam, and free-range outdoor living and community spirit.
But this way of living also comes with its own issues, such as security, distance from cities and towns and succession.
So, what if you could have the best of both worlds?
The Springvale Country Estate is conveniently located close to shopping malls, hospitals and schools in Ballito, as well as some of its most beautiful beaches.
At Springvale, you can enjoy the space and charm of a country lifestyle, with the safety and convenience of estate living. Whether you're looking for your forever family home, or planning for your retirement, Springvale is the investment opportunity you've been waiting for.
A farmyard in your backyard
Situated on 58ha of rolling hills in Sheffield on the KwaZulu-Natal North Coast, Springvale gives you the opportunity to build the farm-style family home you've always wanted. With only 121 homestead plots, plot sizes average 2 600m2, and sell from R1,3 million.
This kind of space not only gives you the chance to build a generous home, as well as a granny flat or cottage, but also means that your animals are more than welcome. Homeowners can have as many as four dogs, two cats, layer hens and ducks.
Sustainable living
At Springvale, we aim to move away from the rule-bound nature of most estates. In fact, our primary focus is on preserving the beautiful, natural environment, and all landscape is a lovely mix of pastures separated by magnificent old riverine forest.
Springvale is not only home to natural wildlife, such as the duiker, but also to abundant birdlife. Homeowners are encouraged to cultivate their own vegetable gardens and orchards, as well as to invest in solar panels and water harvesting.
The great outdoors
Taking such great care of our natural environment means we also want to make the most of it, which is why Springvale boasts many fantastic outdoor activities.
From the clubhouse pool, jungle gym and tennis court, to MTB trails, dog walking parks and catch-and-release dams, outdoor braais and pizza oven, there's something to keep everyone in your family outdoors!
These facilities also give you the chance to meet and get to know the rest of the Springvale community. With such generous plot sizes, you also won't be living on top of your neighbours!
Safety & convenience
Best of all, when you finally go to sleep at night, you can rest assured that your family is safe, thanks to Springvale's state-of-the-art security.
The estate will be surrounded by a 2m-high perimeter wall, complete with electric fencing and cameras. Access to the estate is biometrically controlled, and the guardhouse is manned for 24 hours a day.
Phone our development consultant to request the latest pricing and availability schedule on 087 094 1084, or visit springvalecountryestate.co.za