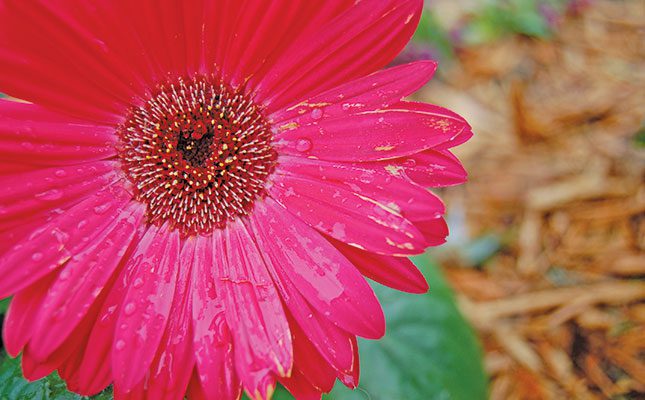 Imbali Cut Flowers has fetched top prices for its gerberas (also known as Barberton daisies) at the Multiflora Flower Market in City Deep, Johannesburg, for at least three decades.
Apart from the quality of its flowers, Imbali is well known for its unique presentation, which features a curved cardboard sheet with holes to hold the flowers. This type of packaging is easy for the buyer to transport and is a popular seller.
Imbali is a second-generation family business based in Olifantsfontein, near Centurion in Gauteng. It is managed by Tania Henkel, whose father, Marcus, started the business on its present site (an inherited property) in 1988, giving up a career in architecture to do so. He has since retired.
Henkel is a qualified industrial psychologist and, like her father, also gave up a professional career to pursue farming.
A big player, but a smaller market
According to Henkel, gerberas are not as fashionable as they were when her father started farming. And indeed, judging by this author's experience of the Multiflora Flower Market, it is difficult to disagree.
In the 1990s, approximately eight gerbera growers sold their produce at the market. Today, just two growers are present on a regular basis, and one or two others appear occasionally at the morning auction. Imbali, a mainstay of gerbera production in South Africa, has a row of trolleys on the market every day.
Like so many other businesses, Imbali was hit hard by the COVID- 19 lockdowns, and at one point didn't send gerberas to the market at all.
"The cost to get the flowers to the market and pack them wasn't worth the money we were getting for the flowers, with the low demand for flowers during the initial stages of lockdown.
"It was during this time that the minimum cost of flowers was pushed up on the auction to assist the farmers who were really battling during the pandemic," recalls Henkel.
Fortunately, Imbali was able to get assistance from the Oppenheimer Generations Foundation during the lockdowns. Asked how Imbali is still surviving despite gerbera growers exiting the industry, Henkel says: "With a lot of prayers."
Challenges facing the operation include the high cost of electricity, coal and fuel, as well as the national minimum wage.
"We all want labourers to get a good wage, but if the farmer goes under, all his or her staff members will be out of work too."
Henkel admits that it has become more and more expensive to keep the farm going, and the only time that Imbali does really well is around Valentine's Day and Mother's Day, when the demand, and hence the price, for flowers increases. The profits that Imbali makes over these periods carry the farm over the quieter times.
"My biggest worry from month to month is trying to make ends meet," she says.
Facilities and production
Imbali has six greenhouses, and there are no plans for expansion at the moment. Great care is taken in growing the plants and packaging the flowers, which can break easily.
Each flower is checked for defects, parasites and pests, and is graded accordingly. The plants are scouted carefully every day. Missing the signs of an insect or parasite can be devastating because of the unbelievable speed that pests can spread through a greenhouse.
Imbali imports gerberas from a Dutch-run company in Kenya and plants them in coco peat, a growth medium imported from Sri Lanka. Regular plastic pots are used as containers, and these rest on metal racks in the greenhouses.
"The growing cycle from planting to picking is between four and six weeks. Unlike some other flower types, gerberas don't have to be replanted after being picked, and the plant has a life span of four to five years. The flowers' regrowth after cutting takes four to six weeks," explains Henkel.
After four to five years, the quality of the flowers declines and the plants are replaced, starting the cycle again.
Plants and their flowers need heat and light to grow, and although South Africa receives sunlight for most of the year, gerberas require heating in winter. The cost of coal to run boilers in winter is around R30 000 every two weeks, according to Henkel. Imbali also gets monthly electricity bills of between R25 000 and R30 000 in summer and of about R40 000 in winter. The monthly cost of pest control is about R50 000.
The operation uses good-quality borehole water, which is checked twice a year at a laboratory.
Challenges
In addition to high costs and volatile demand, Henkel has had to deal with a squatting problem near the property. A number of informal settlements popped up, and this increased crime in the area. Farmers tried to get the squatters evicted, but a number of demonstrations followed, with tyres and trucks being set alight by the demonstrators, creating a volatile environment. This made it difficult for Imbali to get its flowers to the market.
The farmers in the area responded by banding together and driving in convoy when anyone needed to get through the trouble spots.
The matter was finally taken to court, where an order was obtained to evict the squatters, based on the fact that the area had been zoned for agriculture.
Imbali is the only gerbera producer that supplies the market daily. This can be a problem for buyers when they need gerberas of a specific colour, as Imbali packs its flowers in approximately five or six bunches of 10 gerberas apiece, with each bunch a different colour. If a florist is doing a function that requires a specific colour, it may therefore struggle to find the right colour.
In contrast, Maliflora, a flower grower from Lydenburg in Mpumalanga, sells its gerberas in individual colours, but isn't always at the market.
Henkel explains, however, that it is possible to buy specific colours directly from Imbali or through the wholesaler Flora Direct, but the minimum order is 500 blooms.
Gerberas are difficult to transport, and should not be refrigerated. In addition, they cannot be out of water for long, as they wilt easily. This makes them difficult to export, as the quality of the flowers will have deteriorated by the time they reach their destination.
Diversifying
To counter some of these challenges, Henkel is considering diversification, in particular producing some varieties of greenery, possibly eucalyptus. In December, she experimented with this idea by putting a couple of trolleys of green cypress tree branches (from trees growing as windbreaks on the farm) on the flower market floor and noted that these fetched a good price at the auction. Indeed, in-demand greenery has the potential to fetch a higher price than most flowers, even roses, she explains.
Email Carol Sutherland at [email protected], or visit Imbali Cut Flowers at imbalicutflowers.co.za.