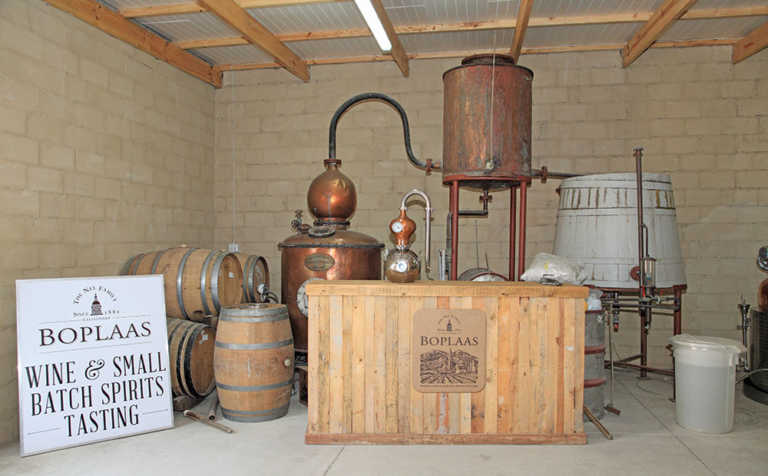 While Calitzdorp in the Klein Karoo has been firmly established as the 'Port Mecca' of South Africa, the production of this fortified wine is not enough to keep a farm in operation.
Carel Nel, owner of Boplaas Family Vineyards in Calitzdorp, explains that sales volumes have declined steadily over the past decade, which means that farmers have to be highly strategic to make it in the market.
Boplaas has a number of strong advantages, one of which is Nel's dedication to the production of premium-quality wines and spirits. Since he joined the farm, 40 vintages ago, Nel has undertaken many trips to Portugal, where he has befriended some of the Duoro Valley's top Port producers and learnt the art of crafting fine fortified wines.
He also finished his Cape Wine Master's Diploma in 1993 with a dissertation comparing South African port-style wines with Portuguese Ports.
Since the signing in 1999 of a trade agreement between South Africa and the EU, the local wine industry has not been allowed to use the name 'Port' on bottle labels for this style of wine; the name may refer only to fortified wines from Portugal.
South African producers have therefore used names such as Cape Tawny and Cape Vintage for locally produced port-style wines.
Quality above all else
Boplaas has over time gained a reputation as a top port-style wine producer. It has won the South African Champion trophy 10 times since Nel joined the farm and is the only cellar in the country to have won Platter's Five Stars for a port-style wine, Brandy and White Muscadel.
Boplaas was the first South African producer of port-style wine that made the wine in a drier style (95g sugar/ℓ), compared with the norm of 140g sugar/ℓ. The alcohol content was increased to 19%, in line with international standards.
"It doesn't really make a difference what crop you produce; good quality always outperforms poor quality. The demand for our port-style products has always been strong in spite of tight market conditions," says Nel.
Boplaas Vintage and Tawny port-style wines sell for between R350 and R1 500 a bottle.
Remarkably, the farm's shift to Portuguese varieties began with a simple error: Nel's father, Danie, planted Tinta Barocca mislabelled as Shiraz grapes at the nursery! The mistake, discovered by Nel while studying oenology at Stellenbosch University, led to the farm venturing into the production of port-style wines.
Their first single-varietal Tinta Barocca was released in 1982 and is still one of the farm's best sellers.
To promote this style of wine and break its strong association with 'winter nights in front of
the fire', Nel has actively promoted it at wine shows and tastings as a chilled and mixed drink.
He has also been instrumental in launching the annual Calitzdorp Port and Wine Festival, which has seen a large influx of tourists to this otherwise quiet Karoo town.
"It doesn't matter if other farmers benefit from our marketing activities. In fact, Boplaas often pools resources with other farmers at wine shows. The truth is that a strong market is good for everybody in the industry, regardless of what you produce," he says.
Table wines from Portuguese cultivars
Ten years ago, to diversify its offering and reduce climatic risks, Boplaas became a pioneer producer of blended and single-variety table wines made from Portuguese grape cultivars.
The selection comprises both red and white wines from the Tinta Barocca, Touriga Nacional, Touriga Francesca, Verdelho and Souzã varieties.
"South Africans are still relatively unfamiliar with these as table wines, but they are highly appealing to younger and modern, more adventurous wine drinkers," Nel explains.
They are considerably hardier than the Bordeaux varieties used by most wineries worldwide, needing less water and being better suited to the hot, arid production conditions of the Klein Karoo.
Moreover, they did not require a significant change in vineyard production management, as Boplaas had been using the majority of them to produce port-style wines.
Nel adds that virus-free clones of these varieties are available in South Africa, so farmers who wish to diversify into producing them do not have to apply for import permits.
A family affair
The family is fully involved in the business. Nel's younger daughter, Margaux, has taken over from him as winemaker.
In addition to learning from Portuguese winemakers how to make the most of these varieties, she has completed her master's dissertation on the production of Touriga Nacional.
This is one of the varieties that Boplaas initially used in its port-style wines and later used to produce blended and single-varietal table wines. Margaux has gained a reputation in the industry for her knowledge of this variety.
Distilled spirits
Boplaas has expanded its production to include craft-style brandy, whisky and gin.
"We have brandies that have been matured for five, eight and 20 years, but our evaporation levels are so high that our eight-year-old brandy would be comparable in quality to a 15-year-old brandy made at the coast," says Nel's son, Daniel, who is in charge of the production and marketing of the distilled spirits.
The farm recently released its first five-year-old whisky, which has since won a silver award at the International Wine and Spirit Competition in London and a platinum award as the best South African whisky at the Michelangelo International Awards.
The farm has a distinct advantage over other distilleries as it has access to barrels previously used for port-style wine production. In addition, Nel has made a conscious decision not to buy new land to expand production. Boplaas currently has 60ha under production and an additional 2 200ha under conservation that is not open to the public.
"People say that farms have to get bigger and bigger to cash in on economies of scale, but the high cost of land, climatic risks and political uncertainty don't justify this. Instead, I buy in wine grapes from five different regions in the Western Cape, which helps to bring complexity and depth to the wines that would have been lacking if all the grapes were produced in one place," he says.
The maize used for the whisky is bought in from a farm in the Free State. However, the Nels intend planting a few hectares to several maize varieties as a trial to identify those that will give a unique character to their whisky.
Marketing
Boplaas aims, as far as possible, to cut out the middleman to reduce marketing and distribution costs. More than 35% of its wines and spirits are sold from two tasting rooms in Klein Brak and on the Calitzdorp farm, or through online sales.
The tasting room on the farm receives between 25 000 and 30 000 people a year, according to Nel's elder daughter, Rozanne, who is in charge of marketing.
She adds that they are "going the Californian route", where nearly 60% of wine estates sell their produce from the cellar door. By producing a broad range of wines and spirits, Boplaas can meet a wide variety of customer preferences, instilling brand loyalty amongst their customers.
The Nels' goal is to sell half their wines through these channels over the next three years.
Boplaas wines and spirits are sold in 15 countries apart from South Africa, with the largest volumes sent to other African countries such as Botswana, Zimbabwe, Zambia and Namibia. Risk in the African market is reduced by insisting on cash before delivery.
Email Carel Nel at [email protected]