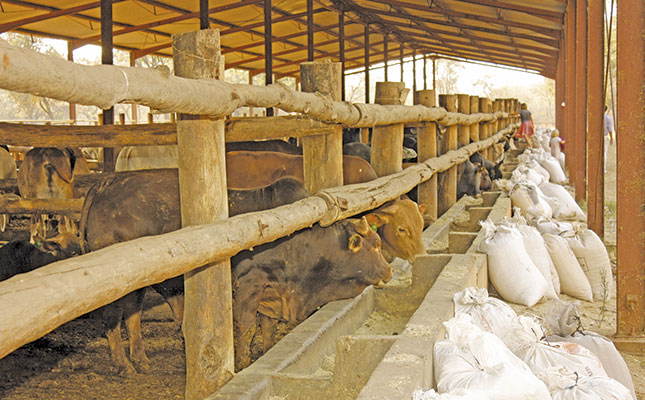 In recent years, livestock producers worldwide have operated in an uncertain environment, due largely to volatile feed prices that have increased sharply since 2007. The situation was exacerbated by extreme weather in the USA, which pushed feed grain prices to record levels in 2012. This, combined with weaker demand due to a slow recovery of the global economy, resulted in meat:feed grain ratios reaching record lows.
READ:Securing a market for your chickens
Reduced feed grain prices set the scene for improved profitability in the livestock sector last year and with US producers expected to rebuild herd numbers that have plummeted in recent years, international beef prices are expected to remain firm for the foreseeable future. SA is no exception – profitability in the meat sector has been highly uncertain, particularly in intensive livestock sectors that rely heavily on feed grains in the production system.
While 2013 saw improved conditions internationally, SA producers did not benefit to the same extent due to a depreciation of the exchange rate and severe drought. The number of cattle slaughtered nationally increased by more than 200 000 between 2012 and 2013 (Figure 1), reflecting the influx of live cattle imports from neighbouring countries, and herd reductions caused prices to drop. The imports also put pressure on weaner calf prices, which fell by 6% year-on-year in 2013.
Slaughter numbers have remained high in the first quarter of 2014. However, a decline below 2013 levels in April has supported prices that have reached the R33/ kg mark projected by the Bureau for Food and Agriculture Policy (BFAP) in the 2013 baseline.
Optimistic view
The medium-term outlook for beef production is more optimistic. Feed grain prices have declined in recent months and are expected to remain at lower levels in 2015 and 2016, assuming normal weather. The rebuilding of herds will also support higher beef prices, leading to improved meat:feed price ratios. Strong world prices and a weaker exchange rate increase the cost of imports, limiting their influence on domestic prices, which are essentially determined by domestic supply and demand conditions.
Consumer demand and spending power remain drivers of domestic meat prices. Due to higher incomes, consumers have increased protein intake relative to starches through the past decade. Chicken has dominated this growth, accounting for 65% of total meat consumed in South Africa in 2013, followed by beef at 23%, with pork and sheep providing the balance.
Slow beef growth
Despite its substantial share, growth in beef consumption through the past decade has been slow, increasing by only 17%. (Chicken rose by 63%). Reduced consumer spending power in the short run remains a concern to beef producers, as cash-strapped consumers tend to switch to cheaper types of meat such as chicken or pork. Imports account for a significant share of domestic consumption in both these markets, however, and high world prices, combined with the weaker exchange rate and increased tariff protection in the chicken sector, will also increase prices of these meat types.
The IMF projects annual growth of more than 3% in the GDP in the medium term, pointing to a recovery in consumer buying power. If this growth is realised, beef consumption will increase by an average of 2% per annum to 2020, according to BFAP. Firm demand is expected to support beef prices. Reduced feed grain costs will result in improved profitability and hence an expansion of herd numbers.
This in turn will allow domestic producers to supply the bulk of demand growth through the next decade, with the share of imports in domestic consumption remaining relatively constant. Exports account for a small share of domestic production; however, after regaining its free foot-and-mouth disease status, the weaker exchange rate presents an opportunity to enter the export market.
Phone Tracy Davids on 012 420 4084 or email [email protected].
This article was originally published in the 20 June 2014 issue of Farmer's Weekly.