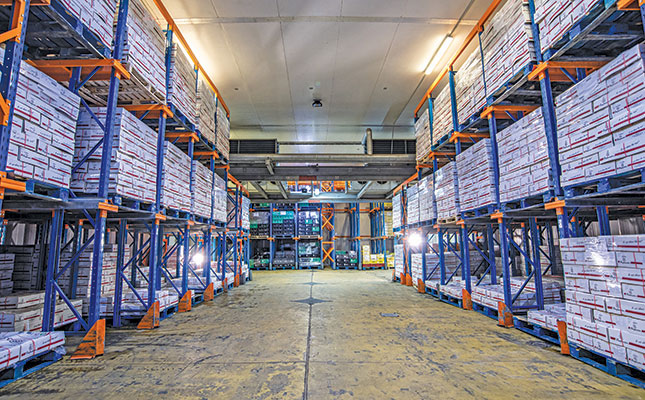 The Beefmaster Group, based near Christiana in North West, is involved in the entire beef value chain: breeding, feedlot, abattoir, and distribution (including exports) of beef products.
According to supply-chain executive Roelie van Reenen, the company employs over 1 000 permanent staff at its various operations.
"The abattoir is the largest employer within our group and is also the biggest private employer in Kimberley [an hour from Christiana]," he explains.
Business structure
The Van Reenen family has been involved in the beef industry since Jacob van Reenen arrived in the Cape of Good Hope in 1722 and started supplying beef to ships docking there.
Nearly two-and-a-half centuries later, in 1965, Van Reenen's father, Lourie, set up a small, on-farm feeding system for his own cattle. In 1983, he decided to establish a full-scale feedlot and bought the farm Kromellenboog near Christiana for this purpose.
"He chose this location because he wanted to establish a feedlot near a secure water source, the Vaal River, and it had to be near a main road and a railway, which was critical for the transport of cattle and feed," explains Van Reenen.
It was only after deregulation of the meat industry in the 1990s that the group had the opportunity to buy an abattoir and venture into this part of the beef value chain.
"We weren't allowed to own an abattoir. In those days, livestock had to be slaughtered at parastatal facilities and this one, the old Abakor facility in Kimberley, was one of them," he says.
Beefmaster purchased Abakor in 2001, and officially opened it as the Beefmaster Group's abattoir and processing facility in the same year. The first Beefmaster retail outlet was opened four years later, and the company currently has a factory shop at the abattoir as well as several retail outlets in Gauteng.
Quality standards
Van Reenen says that South African beef has to compete with premium exports produced by the US, Australia and other countries, as well as lower-value bulk products, particularly from South America."Of late, however, South African beef products have developed a niche as a premium product."
He is convinced that the South African classification system makes this country's beef products unique, as it ensures that the animals slaughtered and packed are younger. "It's not quite veal and it's not quite US beef. It's in-between. And because it's younger, it's leaner. So it's a tender, juicy, lean product."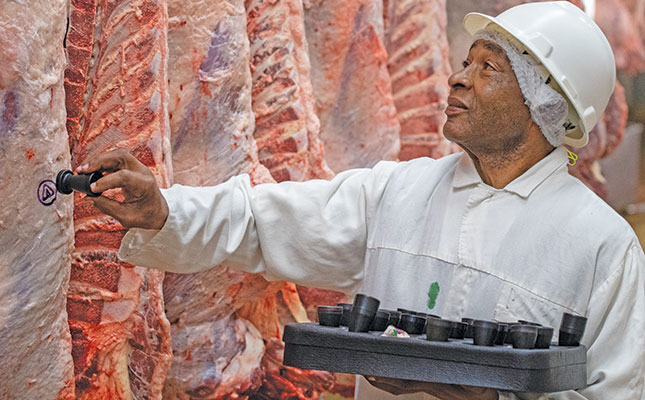 Van Reenen says the company recognised the importance of good management practices and hygiene standards early on. To this end, it had attained FSSC 22000 certification, the highest possible standard for a business such as this.
In addition to quality, Beefmaster strives to uphold ethical production practices, including the way in which animals are handled.
Skilled workforce
As part of its determination to main high standards, the company constantly engages in employee training.
"The more you train people, teach them and invest in them, the more you get out of them," says Van Reenen, adding that people are the most important asset in the group.
"You may think it's easy to slaughter an animal, but to slaughter it hygienically isn't that easy, so our staff have to be skilled," he says.
The company's internal training comprises FSSC 22000 courses, in which all employees are expected to participate annually, as well as farm health and safety courses. External training for staff and learnerships for unemployed people from the community are also provided.
Heath and traceability
Van Reenen says that 2019 has been a challenging year, largely due to the impact of successive foot-and-mouth disease (FMD) outbreaks.
In 2018, the build-up in the industry had been extremely positive, and the outlook was optimistic. However, reality hit home in the first week of January with the announcement of the FMD outbreak.
"For us as a business, it taught us that we had to be conservative and realistic, and at the same time fully understand the arena we're playing in."
The implementation of a traceability system across the beef industry is vital, he stresses.
"We [industry role players] might need to look at doing it ourselves because otherwise how do we get access to better markets? Traceability is one of the things we need to get off the ground."
The traceability system utilised by the group at present enables it to do business locally and abroad.
Vertical integration
Although auctions have always been a source of procuring cattle for the business, and still play an important role in the industry at large, they are no longer the main platform through which the Beefmaster Group acquires its cattle.
In recent years, the company has shifted its focus to building relationships with trusted suppliers instead.
"When buying from an auction, you don't necessarily know what you're getting, as you would with a trusted supplier. So you'll pay a run-of-the-mill price or a calculated value of what you're willing to pay," says Van Reenen.
Beefmaster accepts deliveries from farmers directly to the abattoir in Kimberley, as well as to its feedlot operation near Christiana. The bulk of the meat produced is deboned, processed into various cuts, packaged and boxed. The company also caters for clients, such as individual butchers, who specify whole carcasses.
Van Reenen says that Beefmaster is in a unique position as it is willing to buy any breed of any age, including young calves, weaners for the feedlot, and old cows.
"Most feedlots are structured in such a way that they can buy animals of only one size and age. We've structured our management to accommodate a wider variety."
Although the group comprises different entities, management views all these entities as
part of one large business. Beefmaster's focus over the past two decades has been on vertical integration, which has seen the business expand to Ekurhuleni, and opening up more markets abroad.
The bottom line
The abattoir has the capacity to slaughter up to 800 cattle a day, and generally operates from Monday to Friday. According to Van Reenen, Beefmaster's annual production represents just under 10% of the South African beef industry output.
The outbreak of FMD earlier this year dramatically reduced the group's exports, although both the domestic and overseas markets remain important.
Many elements feed into the financial viability and performance of the company, explains Van Reenen. For example, a weakening of the rand against the US dollar can drive up maize prices, in turn affecting production costs.
A weaker rand can also negatively affect fuel prices and the consumer's ability to purchase meat. On the other hand, a weaker rand enables the group to earn more for its exports, which helps keep the business viable.
The big picture
Van Reenen says that the Beefmaster Group is committed to looking after the interests of the industry as a whole.
"Working with the industry creates a win-win situation for everyone. In particular, we pay attention to the primary production side, and assist farmers. To enable them to get more for their product, we provide input and guidance on what will get them more value."
This includes explaining to farmers what the company requires from them, as well as advising them on herd health management, animal husbandry and other aspects of production.
Van Reenen believes the most important factor of all is to provide feedback in terms of what farmers can do to increase their profits.
The company's approach is to work with each farmer individually, evaluating the cattle and providing feedback to improve management so that the farmer can earn a premium on his or her animals.
"If we can stimulate a better, healthier economic industry on the cattle side, there'll be more production, more work created, and more jobs."
Phone Beefmaster Group supply chain executive Roelie van Reenen on 053 441 9100, or email [email protected].