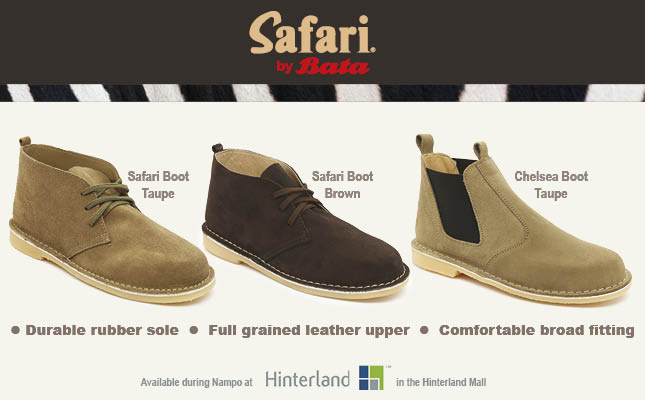 To handle the relentless daily demands of farm work in all weathers, and still look good in town, a shoe has to be exceptionally made and styled.
The classic Safari boot by Bata is exactly that: it's unparalleled in quality, fit, durability and versatility.
READ How to profit from a small hunting operation
Originally designed in 1939, these indigenous desert boots are highly regarded, worldwide for their rugged finish and comfortable fit, and their quality and popularity remain unchallenged.
Born on the savannas of Kenya, the 'King of the Jungle' boot has tamed the streets of Paris, Singapore and New York City, and is as much at home in the veld or it is in the city.
Every detail crafted with precision
The Safari boot is a broad-fitting, superbly comfortable design. It has an upper of the finest, soft, full-grained 'hunting calf' leather, tanned with Bata's signature process, resulting in a velvet-feel finish.
This is complemented by a real leather in-sole bonded to a flexible rubber mid-sole for flexibility. The outer sole is constructed of hard-wearing rubber with good traction.
READ National parks for all seasons!
Quality details can be seen everywhere. The Safari boot features genuine stitch-down construction with hand-stitching, which adds both value and longevity to the boot. The eyelets are of solid brass, making them rustproof and distinctive.
Safari boots are practical, easy to clean and designed with flexibility of wear in mind. They can be worn with shorts on hot summer days or with long trousers during winter. The modern Safari is available in a variety of finishes and styles for men and women.
Value for money
Despite their legendary, long-lasting quality and good looks, Safari boots are remarkably affordable.
And because they're ideal for everyday wear, you get maximum wear and value for money.
Available during Nampo at Hinterland in the Hinterland Hall, and wherever quality footwear is sold.
For more information visit bata.co.za.