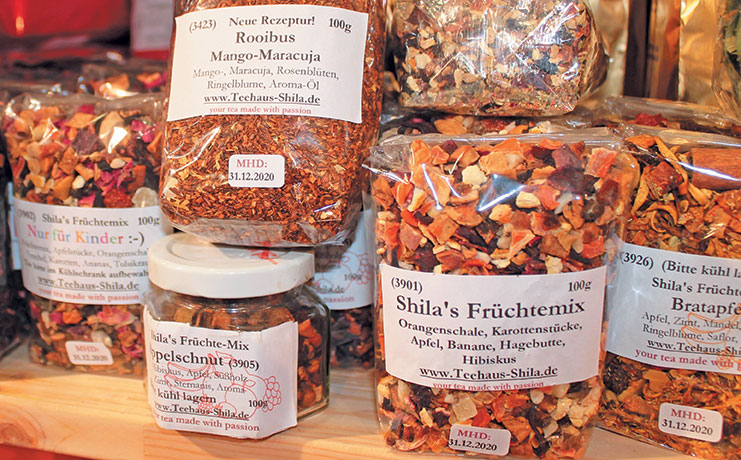 It was the mind-boggling diversity of boxed and bagged teas displayed at the Teehaus Shila stand during the International Green Week (IGW) 2018 in Berlin, Germany, that attracted this journalist.
Despite having to cope with numerous customers, IGW deputy manager Arpan Chatterjee was happy to talk about the origins and trajectory of his family's tea importing, processing, and marketing operation.
READ Learn the basics of growing tea
Established in 1982, Teehaus Shila was the brainchild of Arpan's father, Ajoy, now 74. He and his wife emigrated to Hamburg in Germany from a small farming village 50km from Kolkata, India, in the 1970s.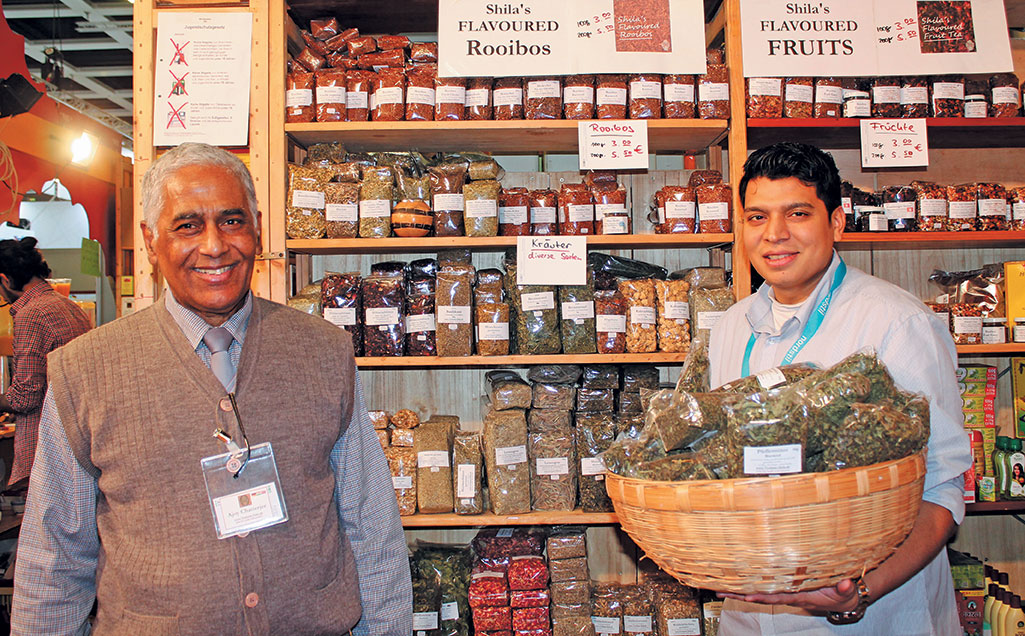 "In India, my parents ran a general store and pharmacy in an area that still has many smallholder tea and rice farmers," explains German-born Arpan. "
So my father already had valuable knowledge about tea production, quality, blending and tasting when he and my mother arrived in Germany. He saw an opportunity to import top-quality Indian teas into Germany, blend them, and then sell them to German consumers at a fair price. This is how Teehaus Shila started."
Diversifying and expanding
Arpan joined the business in 2009 after graduating from university, and has been instrumental in helping Ajoy grow the operation by diversifying its sourcing and product ranges to cater for tea lovers' increasingly wide-ranging tastes.
Arpan inherited what he describes as his father's fascination with and passion for tea, and has been on tea blending and tasting courses hosted by some of the world's most respected tea broking companies, including J Thomas & Co.
"Our customers in Germany and beyond are a combination of those who enjoy conventional black, green and herbal teas as a casual, hot beverage, and those who want to savour the whole experience of brewing and drinking a cup of tea particularly special to them," he explains.
"This second group of people is more conscious of quality and taste, and tend to be in their 20s and 30s."
These younger consumers are also increasingly demanding products produced under ethical environmental and labour conditions, and which meet fair trade requirements.
The Teehaus Shila team has therefore prioritised meeting these demands wherever possible.
"This knowledge adds to our customers' enjoyment of many of the teas they can buy from us," says Arpan.
Using his contacts back in India, Ajoy initially began importing tea only from his country of birth. Areas of India famous for their top-quality black teas include Assam, Darjeeling, and Dharamsala.
Teas are now sourced from countries such as China, Vietnam, Indonesia, Bangladesh, Sri Lanka, Nepal, Japan, Argentina, Kenya and Malawi. Rooibos and Honeybush teas from South Africa are also imported.
Blending to satisfy individual demand
Teehaus Shila imports its dried teas in bulk, in bags or boxes of between 20kg and 40kg. These are stored at the company's two warehouses in Hamburg.
Here, the tea is blended or flavoured as demand dictates, then repackaged and labelled for marketing.
The Chatterjee family's clients include other tea wholesalers, retailers and direct consumers in Germany, other EU countries, the US and Canada.
Annually, Teehaus Shila imports between 60t and 80t of black, green, Rooibos, herbal and spiced teas.
"The herbal teas include ginger, liquorice and fennel, and the spiced teas include cardamom, clove, and bay leaves," says Arpan. "We can sell all of these tea types as standalone varieties, or we can use them to make many different blends.
"We currently sell around 400 different tea products that range in price from about €3 (about R44) for 100g, to about €30 (R440) for 100g of our hand-rolled Oolong tea from India's Kangra Valley."
Some of Teehaus Shila's teas are even used in cultural rituals and ceremonies, and for medicinal purposes.
The company's website explains that Tulsi herb tea, for example, is "an essential object in the worship of gods and goddesses of the Eastern religions".
Health benefits
Teas intended for religious and medicinal purposes need not taste bad in order to be effective, explains Arpan.
"We blend these particular teas to achieve appealing flavours without taking away from their religious significance or medicinal effectiveness. We find that many Western consumers, including those here in Germany, are becoming interested in the health benefits of their teas. We're bringing the East to the West."
To further cater to its consumers' differing tastes, Teehaus Shila also 'expands' on much of the Rooibos it imports from South Africa.
Consumers can buy traditional Rooibos, as well as Rooibos flavoured with vanilla, camomile, caramel, and fresh cherry.
"Through blending, we have the potential to produce an almost limitless range of teas," explains Arpan.
Although it is not possible in all countries, Teehaus Shila does its utmost to secure tea supplies from plantations that employ ethical and fair trade practices.
The Chatterjees also try to support smallholder tea growers by buying directly from them, offering them a premium price for their product over what they are typically paid by other tea buyers.
Engaging directly with smallholder growers allows the Chatterjees to promote ethical practices among growers, which, in turn, helps ensure their long-term sustainability.
"For example, our Tulsi tea is produced by a co-operative of four families in India," says Arpan.
"We're the co-operative's only client and have committed to buying all of the Tulsi tea it can grow without using harmful chemicals and damaging their soils. The income these families get from us supports not only themselves, but some of the farmworkers they employ."
Teehaus Shila is keen to see the cost of obtaining formal certification in fair trade and ethical production being significantly reduced for the world's smallholder tea growers.
"How does it help a smallholder tea farmer if he or she has to pay the equivalent of a year's income for this certification?" asks Arpan. "Those who qualify should only have to pay a fraction of current certification costs, or even get it for free."
The perfect cup of tea
Different teas require different home-brewing methods for the drinker to truly benefit from their various flavour and health characteristics Teehaus Shila therefore hosts regular tea brewing and drinking workshops at its Hamburg premises for interested tea lovers.
Teehaus Shila customers who attend these workshops come away with added appreciation for the origins and quality of their favourite teas.
For those tea lovers who live too far away to attend the workshops in Hamburg, Teehaus Shila's website carries a wealth of interesting and helpful information.
Although the website is in German, Farmer's Weekly found that Google's in-page translation function worked well enough to convey the meaning.
"Running our business is a lot of work, but we enjoy it because we have a passion for tea," says Arpan.
Email Arpan Chatterjee at [email protected]/[email protected], or visit teehaus-shila.de.
Lloyd Phillips attended International Green Week 2018 in Berlin as a sponsored guest of the German Federal Foreign Office.