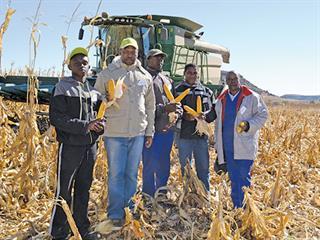 Thole Mosai's eyes light up when he speaks about his farming operation. Sixty years old, he has been farming on the farm Schurvekop for seven years, but has only recently started experiencing real success. The farm, situated between Rosendal and Senekal in the Free State, is state-owned. The land has been divided between Thole and three other farmers, each farming his portion with support from the VKB-GFADA Maize Project.
The Grain Farmer Development Association (GFADA) is an initiative that grew out of the Grain Value Chain Network (GVCN), a network of grain producers and agri-businesses in the extended value chain that came together in 2005 for round table discussions on transformation in the agricultural sector. Started last year, the project is a joint private sector development initiative aimed at developing commercial grain farmers over a five-year period.
It includes 10 farmers and a combined 710ha of maize in October/November 2013. Participating farmers are situated throughout the VKB service area: four are on Schurvekop, four in QwaQwa, one is near Kaallaagte and one is near Reitz.Thole Mosai, Johannes Nkisi, Daniel Mhlambe and Bernard Lesia have planted a combined 260ha maize on Schurvekop.
Comprehensive training
VKB, with its head office in Reitz, has provided them with intensive mentorship involving on-farm training on all aspects of crop production as the season progresses. They have also received support with input selection and procurement and have been introduced to representatives of input supplier companies. These – Klein Karoo Seed, Omnia Fertiliser, Montsanto, Wenkem and Clarenz Chemicals – have given them technical advice. The farmers also received marketing assistance throughout the season.
In addition, they completed Batho Pele's Development Programme for Emerging Farmers. Funded by Agriseta, this took place between May and November last year and encompassed seven three-day modules, covering topics such as general farm management, financial management, farm administration, labour management, crop management and livestock management.
"The VKB-GFADA programme gives farmers mentor support and helps by subsidising their costs", says Piet Potgieter, VKB's manager of developing agriculture.
GFADA paid 50% of the production costs of new farmers and 40% of the costs of existing farmers in the 2013/2014 planting season. VKB provided financing of R4,39 million during the same season. "This finance was provided at the commercial interest rate, the crops serving as collateral," Piet explains. "Multi-risk insurance couldn't be obtained, so VKB assumed a material finance risk."
The average yield was measured at 4,4t/ha and varied between 3,5t/ha and 6,1t/ha for the 10 farmers participating in the project, for a total production of 3 125t (average 313t per farmer). The average production cost is calculated at R7 000/ha and farmers achieved gross margins of between R1 500/ha and R2 000/ha.
Their contract with the VKB-GFADA Maize Project requires them to re-invest part of this profit for the next season. By 12 May this year, 75% of the expected crop (235t average per farmer) had been priced at an average ex-silo price of R1 980/t (Safex price minus the transport differential).
Positive partnerships
Thole is optimistic about his farming prospects due to the involvement of the big agricultural companies and the knowledge they have shared with the farmers. "Before, I struggled. But now I can see a future unfolding," he says, adding that his son, Pheelo, who is in Grade 10, is very interested in becoming a farmer one day. "We have a good mentor [Francois Crause (below)] and he helps us with a smile and a warm heart. Even when we make mistakes, he still helps."
Francois is contracted by VKB and mentors all 10 farmers. Thole is also quick to mention the guidance and assistance he receives from his fellow farmers in the area. "Neighbouring commercial farmers have also been a huge help and I regularly consult them," he says. "Once we had a veld fire on my part of Schurvekop and the neighbouring commercial farmers responded so quickly that the fire was extinguished even before I knew it had started. By the time I arrived they were already finished," says Thole.
The funding stumbling block
According to Thole, the main challenge for him and his fellow farmers is that they do not own the land they farm on, so cannot use it as collateral to obtain financing for implements. This past season, he employed a contractor to harvest 76ha maize at 5t/ha. But this presents problems.
"We had to wait for the contractors to finish their own harvests before they could harvest for us," he explains. "It was a risk to keep my maize on the land because of very cold conditions that could lead to frost damage, but what could I do? "We need government support. If the state could just help me buy a tractor, which I can pay off on an annual basis, it'll help. I don't want it for free, but I need help to get the loan."
Despite this challenge, Thole is confident about the future and thankful for the opportunity given to him, as well as for the guidance and help he receives. "I've lived in the district for seven years and the commercial farmers are good to me and I'm good to them. We work together as a team."
For further information, phone Piet Potgieter on 082 825 0165 or 087 358 8834.