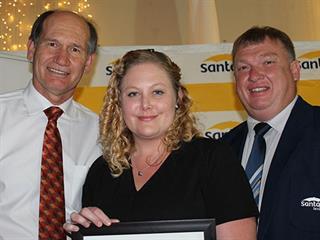 Ecstatic by the win, Erasmus said she was very fortunate to be part of a dedicated and talented band of journalists, editors, copy editors, designers and support staff at Farmer's Weekly.
"The award is definitely not only a reflection on my writing, but rather evidence of the quality of work being produced week after week by the Farmer's Weekly team," said Erasmus.
This year's competition saw entries from agri journalists across SA. Stories had to focus on commercial farmers who were supporting new and developing farmers to gain entry to farming, or achieve commercial success.
Erasmus' winning article covered an ostrich farming project initiated by Martin Fick, a farmer from Zimbabwe who had to start from scratch after he and his family lost everything as a result of that country's chaotic land reform regime.
Congrats Denene Erasmus, the Agri Securitas journalist of the year! @agri_erasmus @FarmersWeeklySA

— Agri Writers SA (@AgriWritersSA) November 14, 2014

"Instead of being embittered by the loss and violence he suffered in Zimbabwe, Martin decided to make a positive contribution to agricultural reform in South Africa," said Erasmus.
With the help of ostrich processing and marketing business, Klein Karoo International, the ostrich farming project that Martin started is having a very real impact in an area where people had become despondent due to the utter lack of economic opportunities in their rural villages.
Erasmus said that Buyelwa Mangi, one of the farmers involved in the project, told her how farming has changed her life.
"Mangi said the opportunity to earn an income from farming with ostriches has given many in that community hope and a purpose. I was inspired by the story and when writing it I hoped that it would also be an inspiration for those who read it – for those commercial farmers who are not yet convinced of the merit of a more inclusive agriculture sector, and for those who aspire to become farmers," Erasmus said.