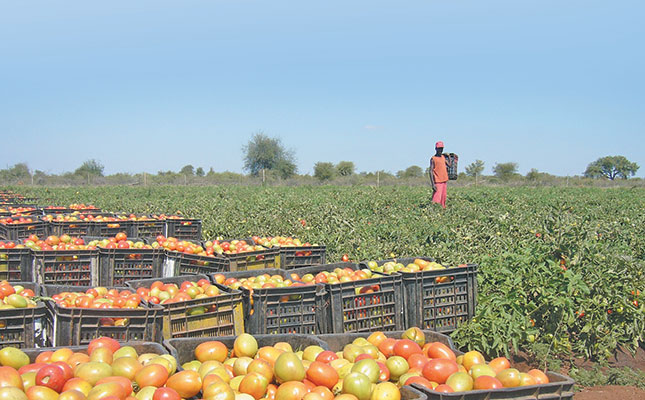 A group of vegetable producers from across Botswana are calling for a permanent ban on imports of tomatoes, potatoes, cabbages, carrots, beetroot and green peppers from South Africa and other vegetable exporting countries.
READ 41 million people in Southern Africa to face food insecurity
The group recently approached the Botswana government to discuss the idea of a permanent ban on such imports, saying local farmers could meet national demand for these vegetables.
Speaking to Farmer's Weekly, the farmers said they were in the process of developing cropping plans, which could be used to ensure continuous production and supply of the vegetables.
The farmers expressed confidence that they were ready to increase supply, but said they were unwilling to invest in expanded production because there was no guarantee that supermarkets would buy their produce.
"We are scared to invest due to the fact that our supermarkets can make you sit with your crop while they wait for a temporary ban to stop imports from South Africa," one of the group members, Theunis van Rensburg said.
READ Plant-based movement opportunity for fresh produce industry
Botswana had a small population, enough suitable land, and an adequate number of people who wanted to farm, which would make it easy to meet vegetable demand if imports were permanently banned, he added.
Another group member, Zingati Zingi concurred that local farmers were capable of meeting national demand for the commodities.
READ Adaptation key to vegetable farmer's sustainable growth
"The thing is if we don't implement a permanent ban on vegetable imports, supermarkets will keep on importing the vegetables from South Africa, and this will [create] the impression that we cannot produce enough of the vegetables to meet national demand."
Spokesperson for the Ministry of Agriculture, Boikhutso Rabasha, confirmed that the vegetable farmers had approached the government to discuss the permanent banning of vegetable imports.
He said, however, that such a ban would be difficult to implement because Botswana was a signatory to trade agreements aimed at liberalising trade between Botswana and Southern African Development Community (SADC) countries.
"A permanent ban will be a violation of the agreements," he said.
Join Farmer's Weekly's WhatsApp news broadcasts.