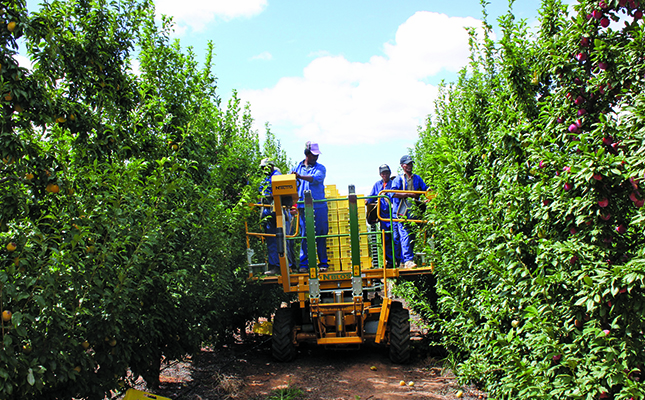 Output by the agriculture sector contracted 13,2%  quarter-on-quarter in the first three months of 2019, thus contributing to overall negative economic growth of 3,2% for South Africa over this period.
This decline in GDP was the largest experienced by South Africa since the global financial crisis 10 years ago.
Along with other labour-intensive sectors, including manufacturing, mining, and quarrying, agriculture was one of the largest contributors to the poor performance of South Africa's GDP during this period.
According to a report by Statistics South Africa (Stats SA) on the first quarter GDP figures, the economy contracted by 0,2% year-on-year.
The contraction in economic growth was mainly as a result of "declining exports, weaker fixed capital investment, and falling household consumption expenditure", Stats SA said.
Independent financial analyst, Bandile Mathendela, said that load-shedding, which was implemented by Eskom in February due to limited generation capacity, had also had a direct impact on the economy.
"[The] sectors with the biggest declines all rely heavily on electricity [for production]," Mathendela said.
According to Stats SA, the agriculture sector's performance was weakened by a slowdown in the production of field crops, including wheat, sunflower seed, and tobacco, and horticultural products, such as vegetables, citrus and deciduous fruits.
Wandile Sihlobo, head of economic and agribusiness intelligence at Agbiz, said the contraction in the sector was in line with the figures being released by key horticultural subsectors that had harvested their produce during the first quarter of the year. These included the wine grapes, which saw a 2% decline year-on-year.
"The citrus industry, which has been a source of positive news in the horticultural sector, with exports set to reach a record level of 137 million boxes of citrus fruit in 2019 due to [high] output, only started with its harvesting activities in the second quarter, and we expect its fortunes to be reflected when the data become available," Sihlobo said.
He said agricultural conditions were challenging in large parts of the country, due to drier weather conditions experienced during the past few months.
This was specifically evident in the central and western parts of the country, which predominantly produced summer grains and oilseeds.
"The yields of major summer crops such as maize, soya bean and sunflower seeds were negatively affected, and thus production is set to be down 13%, 16% and 29% year-on-year to 10,9 million tons, 1,3 million tons, and 611 140t, respectively," he said.
According to Paul Makube, senior agricultural economist at FNB Agriculture, despite the recent drop in GDP, agriculture remained one of the sectors capable of addressing rising unemployment in South Africa, given the great export potential of the sector's labour-intensive commodities.
"While the recent GDP outcome is shocking, there is still hope in the remaining quarters of 2019, with [expected] good output for winter crops and some industries in the horticulture sector," he said.