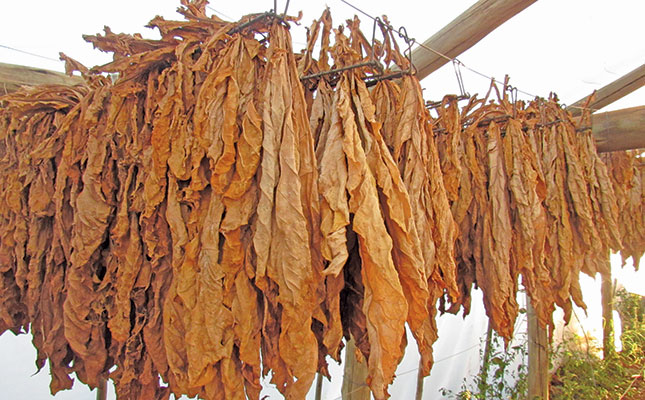 Initiatives to develop and grow South Africa's black tobacco farmers may come to naught, due to government's ongoing ban on the manufacture and retail of tobacco products.
This ban has been in force since the start of the national lockdown to contain the coronavirus disease (COVID-19) pandemic.
READ Great returns with tobacco, the ideal cash crop
Agricultural services company, AFGRI, recently announced that it had partnered with British American Tobacco South Africa (BATSA) to provide grassroots technical and material training and support to the country's existing and aspirant "new era" tobacco growers across various provinces.
A statement by AFGRI explained that its Lemang Agricultural Services division, with financial backing from BATSA's Emerging Farmer Initiative (EFI), intended to create "suitably trained, experienced and sustainable new era tobacco farmers who can successfully progress to the status of commercial tobacco growers".
The statement added that the EFI was already empowering 150 black tobacco growers at 15 sites in five provinces.
The sun-cured Virginia tobacco leaf that they were producing was being bought by BATSA through the Limpopo Tobacco Processors company.
READ Tobacco Mosaic Virus: symptoms, transmission and management
However, according to a statement issued recently by the Black Tobacco Farmers' Association (BTFA), due to government's persistence in maintaining the ban on the sale of tobacco products, "[…] an entire black-owned, transformed sector of the agricultural economy is going to die […] and it is entirely government's fault".
"It breaks our hearts that every time one of South Africa's 11 million smokers lights a cigarette under the lockdown, they are smoking illegal tobacco. They are smoking leaf that is not South African. We have been stripped of our income. We are being stripped of our livelihoods. We have been stripped of our dignity by the very government we put in charge to restore our dignity," BFTA's statement said.
TAU SA also joined the fray with its president, Louis Meintjes, stating that TAU SA had submitted a formal request to President Cyril Ramaphosa to establish a judicial commission to investigate the illegal trade of cigarettes and uncover the parties involved.
Meintjes said that from an agricultural standpoint, the ban on the sale of tobacco products during lockdown was profoundly negatively impacting the country's tobacco growers and other role players in South Africa's legitimate tobacco value chain.
"Unfortunately, the government's record of dragging [its] feet when it comes to investigating corruption among its members substantiates the image of a government that condones corruption. South Africans need to see that justice is done," he said.