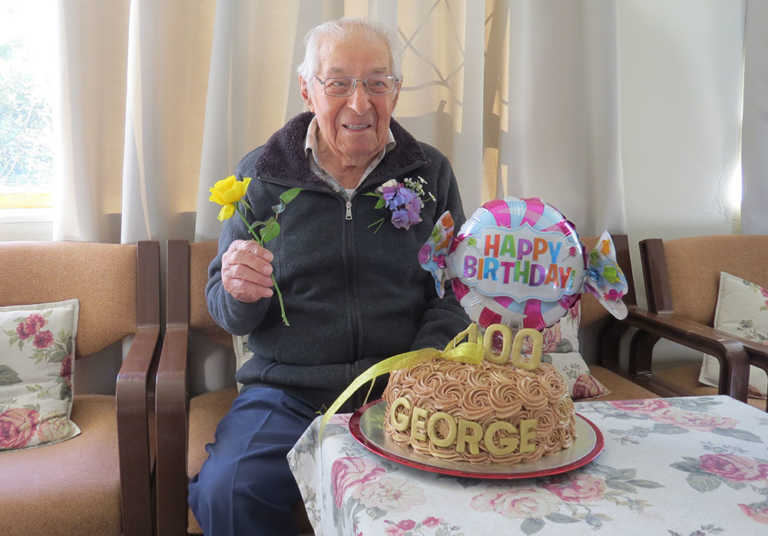 He started off his career in journalism at The Friend newspaper in Bloemfontein before joining Farmer's Weekly and remained with the publication until 2016.
In 2017, Farmer's Weekly bestowed a lifetime achievement award on George for his service to the industry.
"I would like to thank Farmer's Weekly for honouring me with this medal, it is the one thing I have always coveted and now it is finally in my pocket," George said in a letter to the editor shortly after his 99th birthday.
The award was accepted on his behalf by his grandson Warren Nicholas.
Farmer's Weekly's editor, Denene Erasmus wrote a heartfelt birthday message to George, which was read at his birthday celebrations.
George Nicholas' association with Farmer's Weekly dates back to 1944 and he was involved in reporting on the agricultural sector in southern Africa for 72 years – much of this time as a journalist for Farmer's Weekly.
Wherever Farmer's Weekly's journalists travel, there always seems to be someone who still remembers George and the appreciation that the agricultural community holds for the contribution that he made to the sector cannot be overestimated.
Unfortunately, I was only appointed as editor after George had finally decided to fully retire from contributing to the magazine, but the evidence of his legacy at the Farmer's Weekly is still everywhere to be seen.
Just the other day I visited the National Library in Pretoria to search for some old articles in the Farmer's Weekly archives and there one of the archive librarians came to me to ask how George was doing.
He told me about the many hours that George had spent at the library when he was busy looking for information to include the Farmer's Weekly centenary issue that was published in 2011.
I remember, as a young journalist who had just joined Farmer's Weekly, reading in the centenary issue about George's career and was especially impressed to learn that back those years when George was still a young journalist at the magazine how journalists were allowed to travel for free on trains.
I was also surprised that they were able to expense the company for the cigarettes they bought while on reporting trips.
Only a few years older than George himself, this year Farmer's Weekly celebrates its 107th anniversary.
As the oldest magazine in South Africa we still rely on the mutual loyalty that exists between the magazine and its readers, but it is not only the readers who have remained loyal to the title, Farmer's Weekly has through the years always been blessed with passionate and loyal staff like George.
There is just something about the farming sector and its people that gets under your skin and make it very difficult to leave.
On behalf of everyone at Farmer's Weekly, I would like to wish George a very happy 100th birthday.
We are very proud to have had him as part of the team for so many years and will always remain indebted to him and the other Farmer's Weekly staff members who put in years of dedicated hard work to establish the magazine that we all love and know today.
I never had the pleasure of meeting George in person, I hope that opportunity will arise before his 101st birthday, but from what I have learned about him through his writing I am sure that he well derives the long, exciting and happy life he has been given.
I also hope that there is still a lot of happiness to come for George and you can tell him that if he ever grows bored with retirement the doors of Farmer's Weekly will always stand open for him.
A 100 times congratulations!