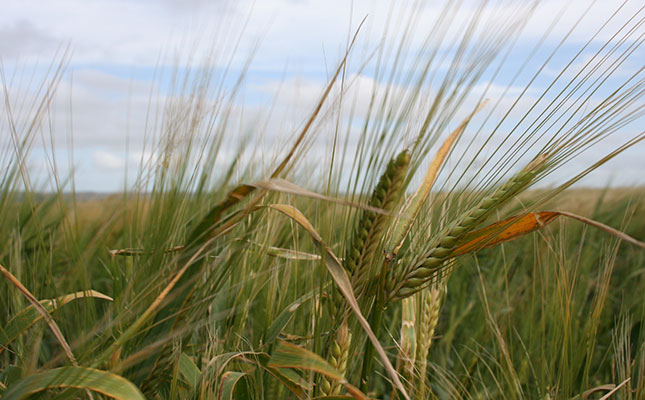 Early estimates for the 2020 malting barley season suggest that the hectares planted to this crop will continue to increase as it has since 2016.
However, some uncertainty exists around how government's ban on the sale of beer and other alcoholic beverages during the coronavirus disease (COVID-19) lockdown will affect the demand for malting barley later this year.
READ Drinks companies switch to alcohol production for sanitisers
According to the Crop Estimates Committee's report on producers' intentions to plant winter grain and cereal crops in the 2020 season, the area estimate for malting barley stood at 137 000ha, which was 3,82% or 5 040ha more than the 131 960ha of the previous year.
Between 2016 and 2019, malting barley plantings increased more than 30%, from 88 695ha to 131 960ha.

Aron Kole, managing director of FarmSol, an agricultural services company and a partner in the South African Breweries (SAB) farmer development programme, said in a statement that if the 500 smallholder farmers that were part of the SAB programme could not secure final offtake agreements for their crops, they would suffer severe financial losses.
Ralph Swart, who farms near Elim in the Western Cape, said in the statement that along with his two brothers, they were for now continuing operations as planned, which meant they would plant a total of 1 300ha to barley.
READ Considering growing malting barley? Here's a useful guide
"We have not downscaled because we have fixed contracts, and SAB gives us certain privileges because we are emerging farmers. For example, we receive funding from SAB and are not penalised when we are unable to produce our full quota, or when we 'over-produce'."
According to Swart, commercial farmers in the region had indicated that they may downscale barley production in anticipation of the negative impact on demand.
*This article was edited on 20 May. Comments made by Grain SA economist, Ikageng Maluleke, in the original article posted on 15 May, have, upon request, been deleted from the article. The editor has also included additional information, that did not appear in the original article, from the Crop Estimates Committee report quoted in the article.