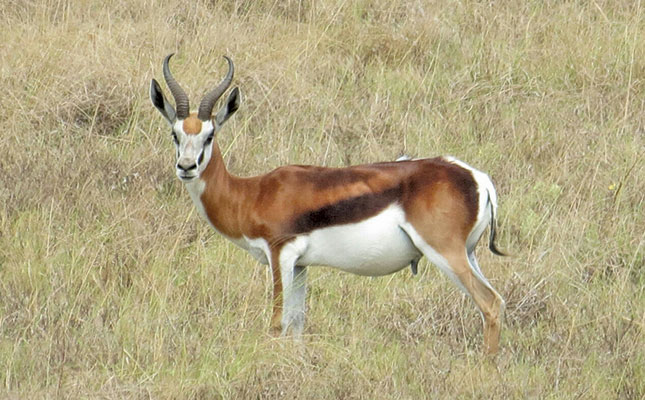 The ram, sold by John and Mark Lake of the farm Cuton Park, Paterson, was one of three lots on offer at the auction at Jan Kempdorp at the end of July.
The previous highest price was just over R90 000 for a black springbok ram. Mark Lake said that three mature coffee springbok and a young ram had gone for R340 000 each. With the popularity of colour variations in wildlife growing and the good prices that have been realised for them, the Lakes were encouraged to start breeding the coffee springbok intensively.
The family have owned their farm for about 40 years. Springbok, including coffee-coloured specimens, have been there for as long as anyone can remember.
"They've occurred naturally, with no manipulation of their breeding," said John Lake.
"There are 35 coffee springbok on the farm and 110 common springbok ewes that probably carry the coffee gene. These numbers have fluctuated over the years mainly due to predation.
"The main challenge of farming with springbok here is the fact that warthogs have come into the area. They cause havoc with the netted fences and make pathways for jackals.
"In the past, we never farmed with the springbok intensively. Professional hunters would shoot a few every year and we'd also sell some live every second or third year. Fortunately, we never let anyone shoot or catch the coffee-coloured buck as we really liked them and thought they were beautiful and unique."
Two breeding camps have now been established – one of 80ha and another of about 150ha. They are netted and protected by electric fencing.
"We've also started feeding the springbok a pelleted ration on a minimum basis so as to be able to dose them for internal parasites and hopefully increase conception rates," said Lake Sr.
"All common rams have also been caught or culled and we've only got coffee rams running with the ewes, this will increase the likeliness of coffee kids being born."
The coffee ram and the breeding group of three ewes and a young ram were bought by Johan and Nadien Bosch of Dinaka Game Reserve in Limpopo.