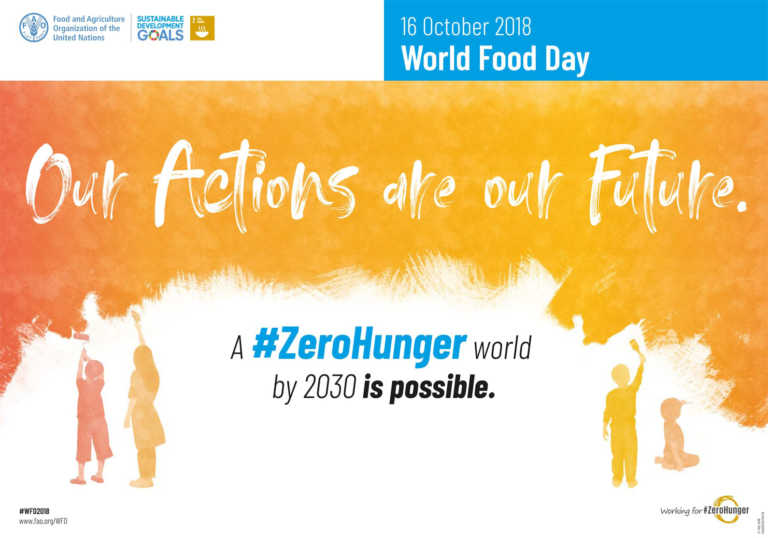 Every year on 16 October, World Food Day is commemorated, which forms part of World Food Week from 15 – 19 October, with this year's theme titled 'Our actions are our future: a #ZeroHunger world by 2030 is possible'.
This year's World Food Week takes place in "a global context where conflict, climate extremes and an increase in obesity are reversing progress made in the fight against hunger and malnutrition," according to a statement by the Food and Agriculture Organization (FAO) of the United Nations.
READ Women in agriculture are key to boosting food security
A series of events, including World Food Day, will explore the actions needed to place the Zero Hunger Goal, which is at the heart of the United Nations Sustainable Development Goals to be achieved by 2030, back on track.
These actions also include the launch of the FAO's 'State of Food and Agriculture Report 2018' that explores how migration is linked to food security, agriculture and rural development; the opening of the Committee on World Food Security, "the leading international platform for policy coherence and convergence on food security and nutrition"; and two high-level panels focussed on discussing what is needed to achieve zero hunger globally.
READ Will technology end hunger?
The FAO added that events to mark 2018 World Food Day were being held in over 130 countries, including South Africa.
A statement by the department of agriculture (DAFF), said it had selected the theme of 'Social protection and agriculture: breaking the cycle of rural poverty' for World Food Day events.
Spokesperson Makenosi Maroo said agriculture minister, Senzeni Zokwana, and other government leaders would be touring smallholder farming projects in the Eastern Cape.
READ Global hunger: the price we pay for food
These include the Mbongweni Maize Project in the Eastern Cape, which is run as a co-op by 29 women and 30 men, and the family-owned and operated Mbandana Poultry Project.
Maroo said Zokwana would also be unveiling a "food mountain" of donated food items to be distributed to impoverished households, and would be participating in a march to show solidarity with the International Alliance Against Hunger and Malnutrition.