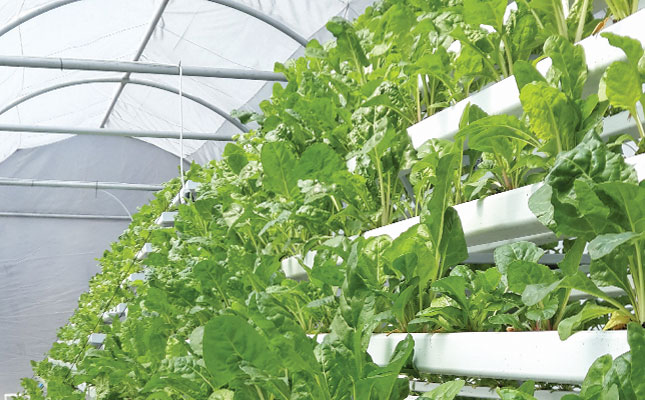 A quiet revolution in normally dead urban spaces has seen seven farms flourish on the rooftops of Johannesburg inner-city buildings since October last year, with four others about to take off.
The project is called the Urban Agriculture Initiative.
Between 50 and 60 farms are planned for the next three years, with a spillover effect of about 100 related enterprises, such as agri-processors and technology suppliers, according to Dr Michael Magondo, director of business incubator Wouldn't It Be Cool (WIBC), which trains the farmers.
READ Home gardens: irrigate sensibly and economically
Magondo is also a director of the Johannesburg Inner City Partnership, a coalition of various parties involved in rejuvenating the CBD.
The partnership is working with the City of Joburg, the Department of Small Business Development, the Small Enterprise Development Agency and SAB KickStart to raise funds for the Urban Agriculture Initiative.
"We expect no fewer than 500 permanent jobs to be created in this process," he says.
Green roofs
The Urban Agriculture Initiative was launched in October 2017 with a single garden on the roof of the downtown Minerals Council South Africa.
This was the operation of Nhlanhla Mpati, who started with 300 basil plants. In just over six months, he had harvested 1 000 plants, all in just 66m² of rooftop space.
Today, the gardens are supplying restaurants with spinach, basil, lettuce, chives, and even edible flowers.
READ The best fish species for aquaponics
Another farmer, Mapaseka Dlamini, now employs four people and supplies restaurants with gourmet lettuce and basil.
Farms are popping up in Hillbrow and Newtown, with rooftops supplied by the Outreach Foundation, the Jozi Housing Company, and the Joburg Land Company. There are also two farms on top of FNB Bank City in Simmonds Street.
Aspirant farmers attend a six-week business course with WIBC, then an additional week of practical training to learn the ins and outs of hydroponics.
The WIBC programme has as its mission "to foster job creation though the creation of an urban agricultural entrepreneurial ecosystem supporting young black, urban farmers". It helps turn young people aged 18 to 35 into entrepreneurs. So far, 13 have been trained and 25 are receiving training.
Production method
WIBC graduate Puseletso Mamogale (33) has a farm on a rooftop on the western edge of the city. Each of her 3 600 spinach seedlings is planted in a neutral medium that holds it upright in a tiny pot.
The pots are placed into holes in trays and arranged in A-frame racks of 10 horizontal shelves. The plants' roots reach through to nutrient-rich water, circulated by pumps from a small tank.
READ Agri partnerships lead to success for young female farmer
The racks are covered in a plastic and shade-cloth roof to protect them from the weather and maintain a steady ambient temperature. Seedlings take six weeks from planting to harvesting.
"I've always loved growing vegetables," says Mamogale, adding that she has tried other agri-ventures but is confident this one will work.
Themba Baladzi, also 33, has a conventional farm in the grounds of an abandoned school in Soweto. With nine people in his team, he grows tomatoes, brinjals, peppers, Swiss chard and beetroot, and delivers to households and street vendors by bicycle.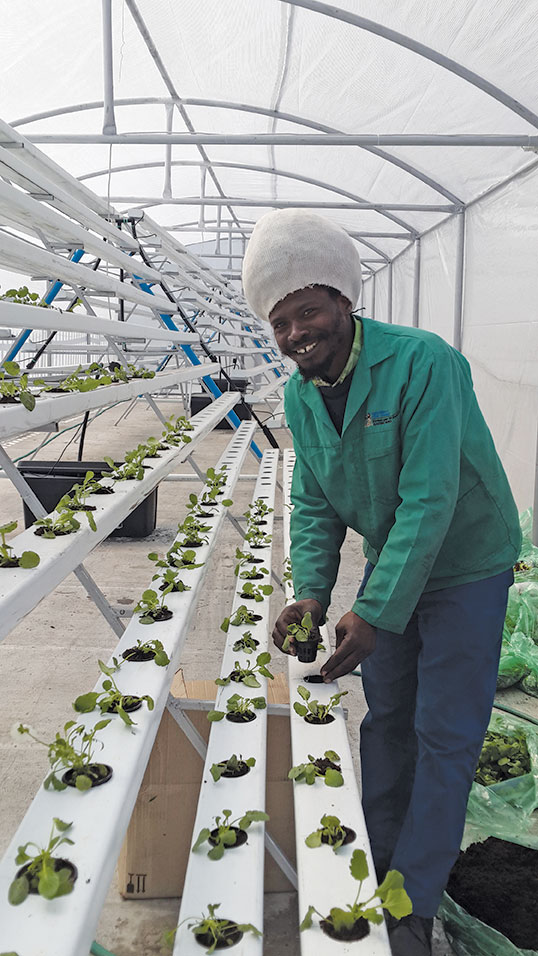 Baladzi recently started a hydroponic farm on a 12-storey residential building in Berea after having attended the WIBC course. His customers include residents of the building, as well as restaurants in Hillbrow.
Already supplying basil, chives, edible pansies, viola and cornflowers in pots, he has plans to grow thyme and origanum.
The right expertise
It costs R200 000 to set up a rooftop garden. Graduates of WIBC get an interest-free loan which is payable over three years.
The organisation called in Jeremy Rich, a farmer from Mooi River in KwaZulu-Natal and a director of Cape Town- based Future Farms SA, to set up the farms.
He supplies the frames, plastic and shade cloth, pots, planting medium, pumps and piping, and holds the hand of each new farmer for the first month.
READ Agri park empowers youth through veggie farming project
"You don't have to have green fingers, but you have to have the right ingredients," he says. "Every day, the pH levels, the water temperature and the salts in the water must be read."
Rich's company has developed the basics of hydroponic farming over the past four years, and is rolling it out countrywide.
The idea came about when he was studying civil engineering in Cape Town, and felt a need to "make everything predictable", particularly in South Africa's weather extremes.
The company started with planting under LED lights, which reduces the time between planting to harvest to 28 days, instead of six weeks.
More with less
Hydroponic farms of 300m² can produce the equivalent of 1ha of open farm production.
"There's a 60% to 70% land saving," says Rich.
Water costs are up to 95% less than in the case of conventional farming, and the hydroponic farm has 26 annual crop cycles for leafy vegetables, compared with four to five crop cycles on open-field farms.
A common hydroponic method is a version of the vertical A-frame stretched out on a horizontal bed, with planting in thin, metal tubes in frames, and small pots planted close together.
The method and results are the same: nutrient-rich water, monitored daily, and a six-week period from planting to harvesting.
According to Rich, hydroponic farming is not entirely immune to pests, despite the plants being in a protected space. Aphids, for example, settle on his plants from time to time, but with quick detection and spraying with an organic pesticide, he has controlled the pest quickly.
Rich grows lemon balm for export, and is experimenting with plants and methods. For example, he has set up a vertical rack with 60 plants in 1m², with water pumped to the top of the piped stack and gently filtered down, wetting the roots. He has planted limes in bags, and will soon be growing hops, which he plans to grow to 6m before trimming.
Root vegetables can also be grown; he has boxes 4m long and 35cm deep planted with carrots, turnips and beetroot.
Creating jobs
WIBC's goal for this year is to train 60 people and have 25 farms operating successfully.
This would result in the creation of about 120 permanent jobs and 280 part-time jobs, says Magondo. He hopes that nine agri-processing businesses – for example, producing pesto – will be up and running by the end of the year.
READ Working together yields profits for Keimoes farmers
"We have ambitions to expand this to other areas, and are exploring Tshwane, Durban and Mpumalanga," he says.
Magondo sees the initiative as a stepping stone to help the farmers become large commercial producers, and says they are more likely to succeed because of their rooftop experience and market contacts.
There's another spin-off: "Many of our farmers enter the programme without capital and any creditworthy operational track record. A key outcome of the project is that farmers are able to accumulate capital, and establish a financial track record for the successful operation of an agricultural enterprise," he says.
This means they will be positioned to benefit from future land transformation efforts.
Email Hala Msimango at [email protected].