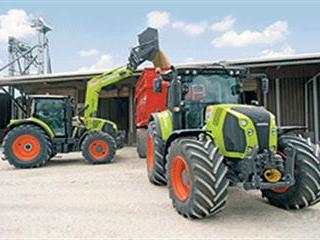 Claas's presence at the Lincolnshire Agricultural Machinery Manufacturers' Association (LAMMA) Show in January marked the beginning of a special anniversary year for Claas, as it was back in 1913 that August Claas set up his own engineering company. Over the 100 years it has been in business, Claas has grown into the largest family-owned agricultural manufacturing company in the world, employing more than 9 000 people in 14 manufacturing plants and sales companies around the globe.
Although Claas is widely associated with harvesting machinery, it was August's development of the simple knotter in 1921 which provided the foundation for the company's growth and success. This ingenious invention revolutionised agriculture, and its importance is reflected in the fact that the original patents taken out in 1921 still apply to knotters used in current Claas balers. An image of the knotter also formed the basis of the original Claas logo.
From balers, August turned his attention to other machinery, looking at how to improve on the American-built combine harvesters that had been relatively unsuccessful in Europe. This resulted in the launch of the MDB in 1936, which was to be the start of a long list of combine innovations and developments, resulting in the latest Lexion 780.
An ideal loader tractor
The new Arion tractors are powered by Powertech PVX engines with DOC/DPF emissions treatment technology, offering higher power and torque levels. Maximum power outputs range from 109kW up to 138kW, driven through the well-proven and highly efficient Claas Hexashift transmission.
New Claas Arion tractors
In addition to its centenary celebrations at LAMMA 2013, Claas also had its new Arion tractors on display (top & above). The range has proven a major seller for the company, and the new generation Arion 600 and Arion 500 tractors build on this success. They feature the latest engine technology to fully meet the TIER 4i emissions regulations.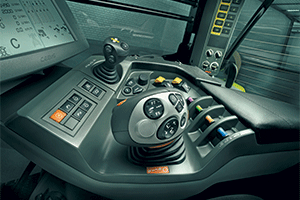 As with previous Arion tractors, the new models are available in either CIS or CEBIS variants. CIS versions retain the Drivestick transmission control, while in addition to having the screen incorporated into the armrest, CEBIS variants are controlled using the new CMOTION multi-function control unit. The cab is the same as that used on the top-of-the-range Axion 900 launched last year.
It is positioned slightly further forward, allowing the rear pillars to be moved forward and a curved rear window to be added, providing exceptional rearward visibility. Internally, the slimline dashboard is mounted on the adjustable steering column and can be swung up and out of the way for easy entry. Up to five different seat options are available.