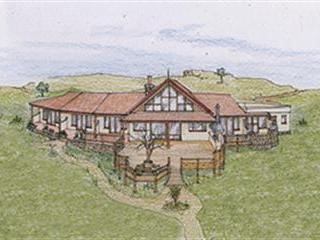 Chris said they want something with a farm-style design and which is permanent in construction. "Our kids will inherit the farm eventually," said Chris. But for now they need to keep themselves busy in their retirement years. "We're very active oldies," said Chris. His wife enjoys catering and entertaining; while he will be watching the cattle and sheep.

Hi Chris,
I have conceptualised a fair idea of what you have in mind. It could be just what you're looking for. The three bedrooms to one side with maybe a separate entrance to the passage could be for visitors, family and friends or combined to be a two-bedroom cottage for a farm manager or tenant. It is always a good idea to have someone close by for security. Other than that, the home includes almost everything that opens and closes.I look forward to your further comments.
All the best,
Jonno

Floor plan House: 246m2 + porches & decks.
Garage & toolshed: 43m2